Culture & Issue
HOME
> Hallyu insights >
Culture & Issue
Extending the value of clothing to promote Korean fashion. Clothing loaning service 'Seinustar'
[등록일]2017-02-17
[조회] 1003
#1 Say you were a traveler who travelled around the world with a big backpack with all your belongings. Say you face freezing weather in the northern hemisphere right after travelling in the summer of the southern hemisphere due to your flight schedule. What will you do when you only have summer clothes and shoes in your bag? As soon as you leave the airport, or before you even get out of the airport, you would have to spend a lot of money to purchase winter clothes at a clothing shop. This is true, even when you have plenty of goose down outerwear at your own place at home.

#2 How about when Southeast Asians, who live in countries it's summer all year round, visit Korea to experience winter? Of course, they wear long sleeved clothes in their own countries, but it would be difficult to prepare a coat to block the cold wind. Even when they decide to purchase a coat, putting that coat in the carrier and bringing it back would be even more difficult. Even if they bring it back with them, they would never wear it at home.
There is a new service that we can introduce to foreigners who are hesitating to visit Korea due to these reasons. Smile Banner System, which is a social venture, founded "Seinustar" with support from Incheon Airport Organization. This is a service that lends clothing to foreign travelers. It's still in its launching stage, but this service is garnering great reviews from not only normal visitors, but from famous figures such as families of the Philippine's boxing star Manny Pacquiao or various social influencers, which is giving great hope to Cho Seon Hyeon, CEO of Smile Banner System with whom I met.
Q
. I am curious about the reason for launching "Seinustar", which took a long period to prepare before launch.
Seinustar is short for "SE (Social Entrepreneur) in us star", and it refers to our social venture star. I'd first have to explain to you what a social venture is. Normal companies are founded to generate profit, whose pursuit is prioritized. But social ventures differ in that they reinvest their profits for social purposes, such as providing jobs or services to the less privileged class. Our company is a social venture and has foundations in sharing economy and IT to contribute to society and create jobs for the less privileged.
Planning the clothing lending service began with a social goal as well. In Korea, countless new clothes are produced, but more than several dozens of tons of clothes are thrown out without recycling them due to the fast consumption cycle. The cost of discarding clothes due to overproduction is also increasing today. As we were devising ways to lengthen the lifecycle of clothes, we came up with the "Seinustar" service.
Q. It's interesting that the company didn't start with hallyu or fashion, but with the concern for society. How was Seinustar's service actualized?
While thinking over my concerns about clothing waste, I had a chance to visit Pyeong Chang, where I saw many tourists from foreign countries and came up with the idea to help solve this problem. Tourists from Southeast Asia, who have not seen winter, come to Korea to experience winter. They want to go on tours, ski, and enjoy winter sports, but winter clothes in their own countries would be difficult to get. Even if they have coats, because fashion trends change so quickly, they wouldn't want to travel with clothes they bought years ago. What's left of traveling are the photos, and they would want to wear fashionable clothes like the Korean stars in K-dramas. According to the Korean Tourism Organization, there are 1.7 million tourists annually who visit Korea during the winter. By lending them winter clothes, we can not only satisfy the demand, but also utilize inventory to help solve the clothing waste problem, partnering with Incheon Airport Organization.
Q. How do we utilize "Seinustar?" Please tell us about how to use your service.
We operate through reservation using the main website. The user will pick the winter coats on the home page, choosing their own size and the days for rent. After arriving at Incheon Airport, you can visit the "Seinustar" counter to retrieve the coat you have reserved.
Because awareness of our service isn't too high yet, there are cases where tourists have already arrived and are looking for clothes after being introduced to nearby tourists. For these cases, we also deliver clothing to where they stay.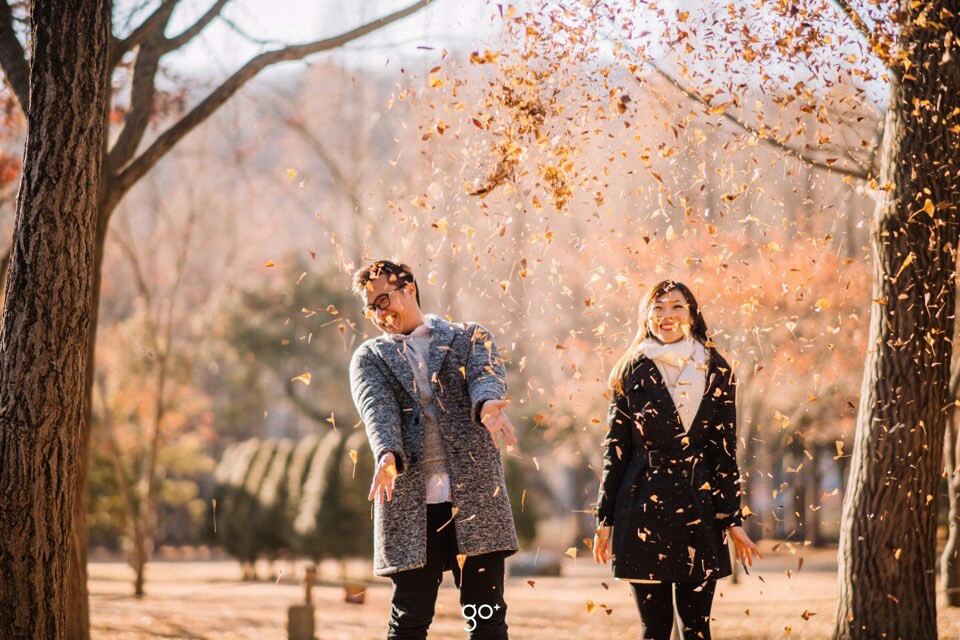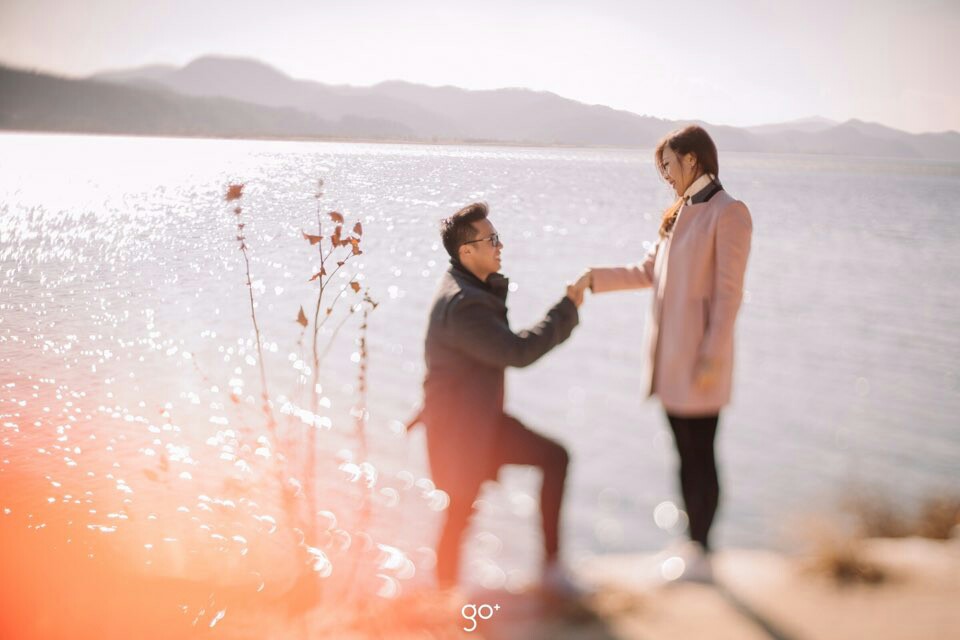 Foreign tourists who borrowed attire similar to the protagonists of "Winter Sonata"-Source: Provided by customer Nina
Q. What do you think is the advantage of "Seinnustar?"
The cost for renting a winter coat for 4 days is 20 dollars on average. Because it's not that costly, tourists can borrow two or three clothes in different designs to wear something that suits the place they're visiting, the occasion, or just their state of mind. Because winter clothes take up a lot of space, we can't have too many of them in our luggage. We can also do better than wear the same clothes while touring and taking pictures. Because all of us would rather look back at our memories more fondly and see us wearing great clothes, I believe we are hitting two birds with one stone.
Coming up with trendy items through collaborating with new fashion designers is another big advantage. Because the influence of hallyu on Southeast Asians?who are the main clients?is high, it's a chance to wear clothes that are similar to what hallyu stars wear. When a tourist couple sends a photo of themselves through SNS dressed in clothes like protagonists and expressing their gratitude, that's when we feel happiest.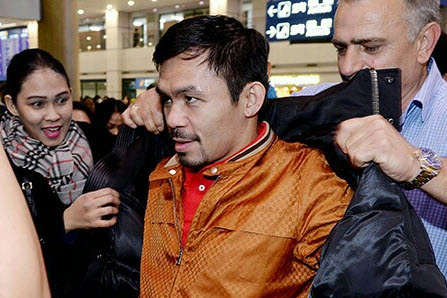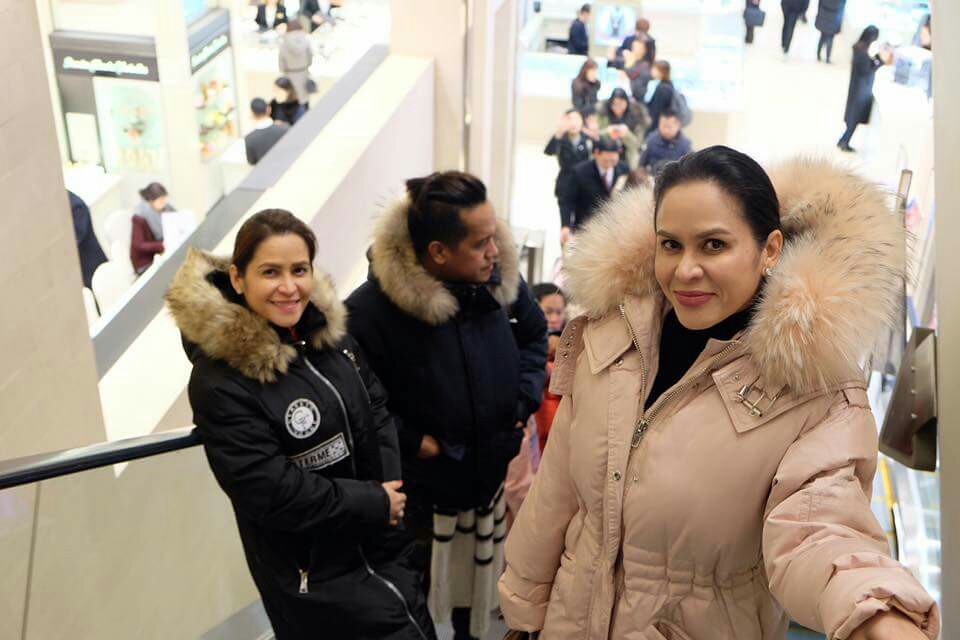 Manny Pacquiao who is wearing winter clothes in the Incheon Airport ? Source: Provided by Smile Banner System
Q. How are the reviews by the customers who actually used the service?
The first client was an Italian who came to Korea after traveling through Australia. He said he knew about our service through Twitter. It was the middle of summer in Australia, and she only had summer clothes, but she was able to spend her time in Korea in warm clothes, thanks to "Seinustar." She was really grateful, and she uploaded her review in detail through her SNS.
Our customers first learn about us through SNS channels, and seeing positive reviews leads to the actual usage of our service. A power blogger from Singapore who actually used our service used our service again when revisiting Korea. Like the Korea Tourism Organization, we have offered our service to foreign power bloggers who were invited to Korea and have received good reviews.
Our most memorable customers were Manny Pacquiao who is a boxing hero in the Philippines and his family. Last December 23rd, we've lent Pacquiao and his family who visited Korea for Christmas warm and fashionable winter clothes. We plan to continually provide our service to foreign celebrities.
Q. How will "Seinustar" grow in the future?
As hallyu spreads across the globe, the interest in the attire that Korean celebrities wear is increasing. Foreign fans who like K-Pop or Korean dramas have a high desire for Korean fashion and clothing. They tend to look for clothes that Korean stars wore on dramas. As we lend clothes that are made by Koreans in Korea, we want to increase the opportunity for Korean fashion to be known around the world through our customers.
Also, as we are in the beginning stage, we are focusing our service on winter clothes. However, we have plans to lend fashion items that do not depend on weather, such as Korean traditional clothes or celebrity fashion items. We also plan to launch our business attire lending service for people who visit Korea for business, rather than tourism.
Lastly, we will build a stronger cooperation network with new fashion designers to create social values, which is the main focus of our company. We will help the growth of new designers after discovering them, and we will provide them with the means to advertise themselves to let Korea's fashion be known to the world.
name : Minju Kwon
profile : Chief Editor of webzine 'Hallyu Story'