Culture & Issue
HOME
> Hallyu insights >
Culture & Issue
Celebrity Conscription is Now a Must
[등록일]2017-02-17
[조회] 1089
Korea is a conscription country. All young men at a certain age have to serve in the army if they don't have any physical disabilities. This directly applies to all young men, and this indirectly affects their family, siblings, and lovers, making this a nationwide issue.
In the past, few people paid much attention to celebrity conscription. Sources of celebrity news were very limited, and aside from a few weekly newspapers, no in-depth coverage of celebrities existed. Celebrity news tended to focus on sensational topics. Conscription, which is a social issue, was not treated as important when it came to celebrities. This was a time when celebrities were looked down upon as "clowns", and the life stories of these "clowns" were not important to citizens or as a social issue.
Since Korea used to have an authoritative regime and the public's democratic mindset was not as strong as it is today, most people didn't see conscription as a citizen's duty. People were even openly jealous of the privileged class not going to the military, calling them "sons of gods". In the 1980s, however, our understanding of conscription's importance grew exponentially. The authoritarian regime fell by the end of that decade, and the military regime disappeared by the 1990s. Now, people started to criticize the special rights that the privileged class enjoyed and started to raise questions about related social problems. By connecting to each through computers in the mid to late 1990s, people could now form public opinions without relying exclusively on main media sources. Conscription, which once lacked public attention, became a hot topic.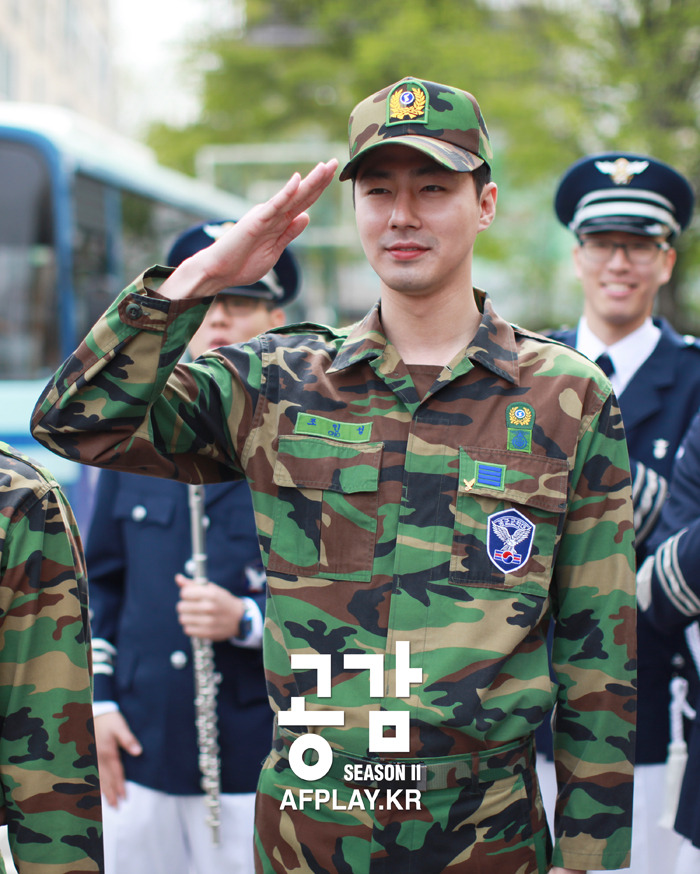 In Sung Cho being discharged after finishing air force service ? Source: Korea Air Force Blog
- The Steve Yoo Incident -
Celebrity conscription came to the forefront as a social issue in 2002. As the era of the internet began, the demand for social justice by netizens soared. The special rights that the privileged class enjoyed under tacit consent became issues, and the birth of a high school graduate president who was far from being privileged was propelled by the power of netizens. In that atmosphere, the waiving of Korean citizenship by the biggest star in Korea back then, Steve Yoo, became a social issue.
Steve Yoo was born in Korea in 1976, but moved to the United States at 12 with his family. He debuted as a singer in Korea in 1997, growing into a hallyu star. In an era when celebrities were regarded as clowns, his parents strongly opposed his decision, and no one considered a celebrity as an ideal son-in-law. As the entertainment industry grew in the 90s, the status of celebrities grew as well. As hallyu started to spread, making Korean celebrities international stars, the perception of celebrities in Korea completely changed. Celebrities were now part of the privileged class in Korea. Steve Yoo is part of the first generation that experienced that change. The avoidance of the military by superstar Steve Yoo began to symbolize the special rights enjoyed by the privileged class. Koreans also frowned upon the privileged class moving to the U.S. or having their children born in the U.S., just to make them American citizens. Steve Yoo's waiving of Korean citizenship reminded the people of the unfair practices of the privileged class, and it escalated into a social issue.
The opposition in Korea against Steve Yoo was enormous. He was regarded as an exemplary youth, earning the name "beautiful youth", and because he proudly announced that he would join the army, his betrayal struck people harder. Strong measures were implementing to prohibit him from entering Korea afterward. His career as a celebrity was completely over. This greatly shocked the entertainment scene, and provided the momentum that forever changed the issue of celebrity conscription.
The sad part is that Steve Yoo and the people around him did not realize how serious his exemption from military duty by waiving his citizenship really was. Even until the '80s, people didn't consider issues for the "clowns", but as the '90s began, Korea's mindset toward celebrities changed completely. Celebrities drew great public attention as their social status skyrocketed. Steve Yoo and the people close to him also failed to understand that the conscription issue symbolized the indignation they felt against the special rights enjoyed by the privileged class. If they understood this social justice issue and its public importance, Steve Yoo would have made a different choice. Seeing Steve Yoo become an enemy to the public, his junior celebrities learned from it. Celebrities now are special individuals who should be exemplars in social issues, including those related to the military and taxes, and they should accept that they are at the center of scrutiny by the media and netizen community.
-Conscription as a right to be free from criticism-
There was another incident that alarmed celebrities even after the Steve Yoo incident. It was the military corruption incident that broke out in 2004. Mass corruption in conscription carried out by athletes was discovered, and the fact that famous celebrities were part of this group incited public rage. The members included hallyu-star Seung Heon Song, Hyeok Jang, and Jae Suk Han, who were all major stars. They all took their physical examinations again and were enlisted.
What's special about Korea's public opinion in regard to the military is that even though the rage against those who defy conscription has grown significantly, once the targeted individual serves diligently in the military, the rage subsides. After Seung Heon Son and Jang Hyeok finished their service, they once again became beloved actors. Another example would be the artist Psy. He served in the army as an industrial worker for 35 months, but it was later found that his service was not legitimate, which garnered great criticism. He unfortunately had to reenlist in the army, after which he was welcomed as "a celebrity who went to the army twice".
Steve Yoo has an ongoing suit against the Korean government, claiming that the prohibition of his entrance into the country is unfair, but the public opinion sides against him. Even though he was forbidden from working in Korea for over 14 years and his heyday has already passed, the reason that the public's anger against him hasn't subsided is because he still hasn't served in the army. If he fulfilled his duties like Seong Heon Son or Psy, even though he might not be as young anymore, the public opinion would have been very different. As such, whether a celebrity has served in the army greatly affects public sentiment.
The influence of military service on a celebrity's image can be seen through the case of Hee Jun Mun. Hee Jun Mun who was a top idol at that time tried to become a rock musician after going solo. The public didn't accept this transition of a dance idol into a rock musician because rock music at that time carried an image that was non-commercial, rebellious, and pure. So Hee Jun Mun became a "Hoover for malicious comments", attracting a great deal of criticism from the public. Netizens also displayed hatred toward Hee Jun Mun. Gu Ra Kim, one of the top MCs in Korea at the time, criticized him harshly in his internet broadcast back then.
But after Hee Jun Mun finished his service in 2007, the criticism all stopped like magic. Through this incident, celebrities realized the magic of military service: their image could completely change if they served in the military. The key phrase back then was "CPR." This is short for "Criticism Prevention Right", which is a joke from netizens that implies they do not attack those who have served their time in the military. The military issue carries that much importance in people's minds. Since then, military service has become the ideal process to launder celebrities' tarnished images.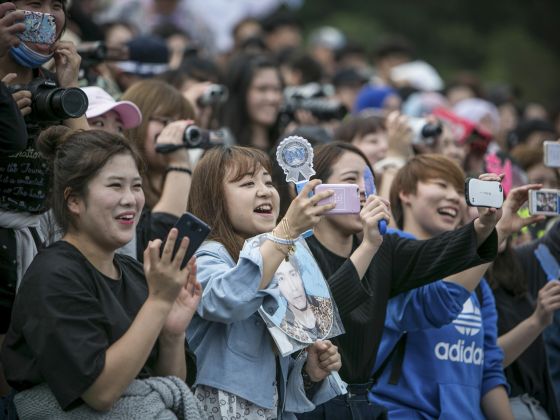 Foreign fans who are cheering for Super Junior members (Shindong, Seong Min, Eun Hyeok) in a military festival: http://www.todayonline.com/world/asia/k-pop-enlistees-u-know-yunho-and-idols-take-acts-army
- Military is Reputation Laundry -
As celebrities who avoid military grow fewer and more of them dutifully serve, "CPR" is no longer handed out just for serving in the military. Even if a celebrity has served in the army, if he has served in less difficult positions as a public agent etc., they receive public mockery. The public does not understand that even if celebrities appear healthy and energetic on TV, they may still not be fit to serve as ordinary soldiers. Jong Kuk Kim, who is the strongest among the members, still gets criticism for serving as a public agent. His physical examination result was insufficient to let him serve as an ordinary soldier due to joint problems, but the public won't acknowledge it.
Even after serving full-time, if the position was not difficult, celebrities can still receive criticism. Singer Rain did full-time service but served as a celebrity-soldier who supported public relations for the army, receiving special privileges that earned him criticism. Se7en or Sangchoo both were troubled with celebrity-soldier issues, and the serious scolding almost led to the Ministry of National Defense to abolish the celebrity-soldier policy. Through such cases, the perception that celebrities have to serve in difficult positions spread.
In Sung Cho earned the public's acclaim after serving in the difficult air force. He received 10 CF offers as soon as he was discharged in 2011. Hyun Bin entered the military as a marine seal when he was enjoying top popularity with his TV show , which made him a hero to the netizens. Joong Ki Song used to have a soft, tender boy wonder image, but after finishing his service in the infantry by working in search parties, he gained a "masculine man" image. This led to him getting a role in , and he became a top Asian star. Seung Ho Yoo, after volunteering to serve in search parties, lost his pretty boy image to become an adult actor.
Military service has become a natural rite for male celebrities. Even the top stars can't imagine avoiding military. More and more celebrities are trying to use the military to change their image. Celebrity agencies also consider military service as a natural part of the careers of famous people, as well as Korea's cultural tendency to congratulate enlistment and the resulting new fans. International fans also understand this special situation in Korea, and more fans are coming right in front of the military camp to congratulate the enlistment. Members of Big Bang, who became international pop stars, will soon have to enlist in the army, which brings great disappointment to their fans, but the fans still regard this as a natural process.
For celebrities, however, military service can still be a horror story. Min Woo Kim, who used to be a top singer in the '90s, could not return to the screen after his service. Myeong Hoon Cheon, who was a 1st generation hallyu star, as well as Seong Jin Lee, who actively appeared in entertainment shows, both faced a decline in fame after military service. Boom, who was rising as an entertainment MC, lost his position after his service. The celebrity agencies are sending their stars because they must, and they still fear the consequences. The fans, our society, and mass media should all help celebrities lose such fears so that they can freely enlist in the army. In that sense, and <1 night, 2 days>, who warmly welcomed the return of Ha Ha and Jong Min Kim, can be regarded as great examples. To eliminate celebrities' military-phobia, we should give celebrities a strong sense of trust that they will not lose their position due to the vacancy they left due to military service.
name : Jaegun Ha
profile : Cultural critic