Culture & Issue
HOME
> Hallyu insights >
Culture & Issue
Being wary of meaningless satires
"Do you smell impeachment?"
This quote comes from a skit called "Piece of Meat" in SBS's program

. This comedic skit satire politics and makes fun of JTBS's "Story Battle". The quote above is a parody of a famous quote from the TV series , "Do you smell something burning?" Its underlying message is that all TV shows' titles and lines must reflect today's state of affairs.
KBS Scene from "President-bro" ? Source: screen capture of the show

As such,

and KBS 2TV's are competing in coming up with political satire. The "President-bro" skit from made fun of the former UN Secretary General, Ban Ki Moon and his "napkin incident". There was also a scene where he shoves in two ten-dollar bills into a vending machine, telling the ministers that he'll buy coffee. This playfully mirrors the time when he tried to insert two ten-dollar bills at the same time when he was purchasing a ticket for the airport railroad. In "President-bro", another scene mocked President Park with the line, "The president is ill? Please send in the chi doctor."

Since "Yeoui-do Teletubby's" is no longer on air, similar political satire shows are now receiving much attention. The fact that political satire has returned to KBS is standing proof of a change in the era.

Political satire has a long history in Korean media, not necessarily including "Scholar Satgat Kim" who aimlessly roamed while mocking authority or traditional outdoor performances that ridiculed Korean aristocrats. KBS has taken the lead in this movement. It is ironic since they started during President Tae Woo Noh's presidency, which was an extension of a military regime.

President Tae Woo Noh wanted to be seen as an "ordinary citizen," so when he was a political candidate, he announced "people can satirize me." This launched the use of political satire in comedy. "President, President, Our President" from that aired since 1986 in KBS rewrote history. On this show, a Hyung Gon Kim impersonator acted as a fake CEO of Biryong Corporation and garnered huge popularity with the catch phrase, "No way it's going to work!" It made fun of the tendency in Korean culture to brownnose the privileged class. From that aired in KBS since 1987, "25 Hour Nero" also gained popularity with its political satire. Comedian Yang Rak Choi, who played the part of Emperor Nero, shouted, "You always fight when you meet. You praise each other when you're on the same team, but once you switch teams, it all turns into criticism." It was a line that appealed to many viewers.

At a certain point, however, KBS stopped making political satire. Even when comedians complained about "not being able to do political satire", people just assumed that there must have been a reason. "Yeouido Teletubby's" from tvN rekindled political satire through the media, but only for a moment. Director Jang Jin, who led the program, suddenly stepped down, and all skits that made fun of politics just stopped. As time passed, it was revealed that these cancellations were due to pressure from the people in power. It was also found that the vice president of CJ Group (Owner of tvN), Mi Kyung Lee, was pressured to leave office from the Blue House. There were also stories that "Yeouido Teletubby's" and the movie offended politicians. Although was mainly funded by NEW, not CJ, CJ became the target. The reason was that CJ Entrepreneurship Investment, which is a subsidiary of CJ Group, made partial investment for the movie . After this, CJ Entrepreneurship Investment removed CJ from its name, becoming Time Wise Investment.

As all this happened, it's became rather obvious that KBS stopped doing political satire because of political pressure. The fact that political satire has returned to KBS means that those who used to be in control have now stepped down.

Television isn't the only source of political satire. Films, which are on the frontline of mass culture, dealing with political satire are also on the rise. After , many movies that dealt with politics or mocked them disappeared. Movies that had conservative sentiments such as or were made, whereas films that dealt with modern history or politically sensitive topics rarely attracted investment. This is why there was a boom in historical movies. Although historical movies take place in the place, they subversively made comparisons to current affairs.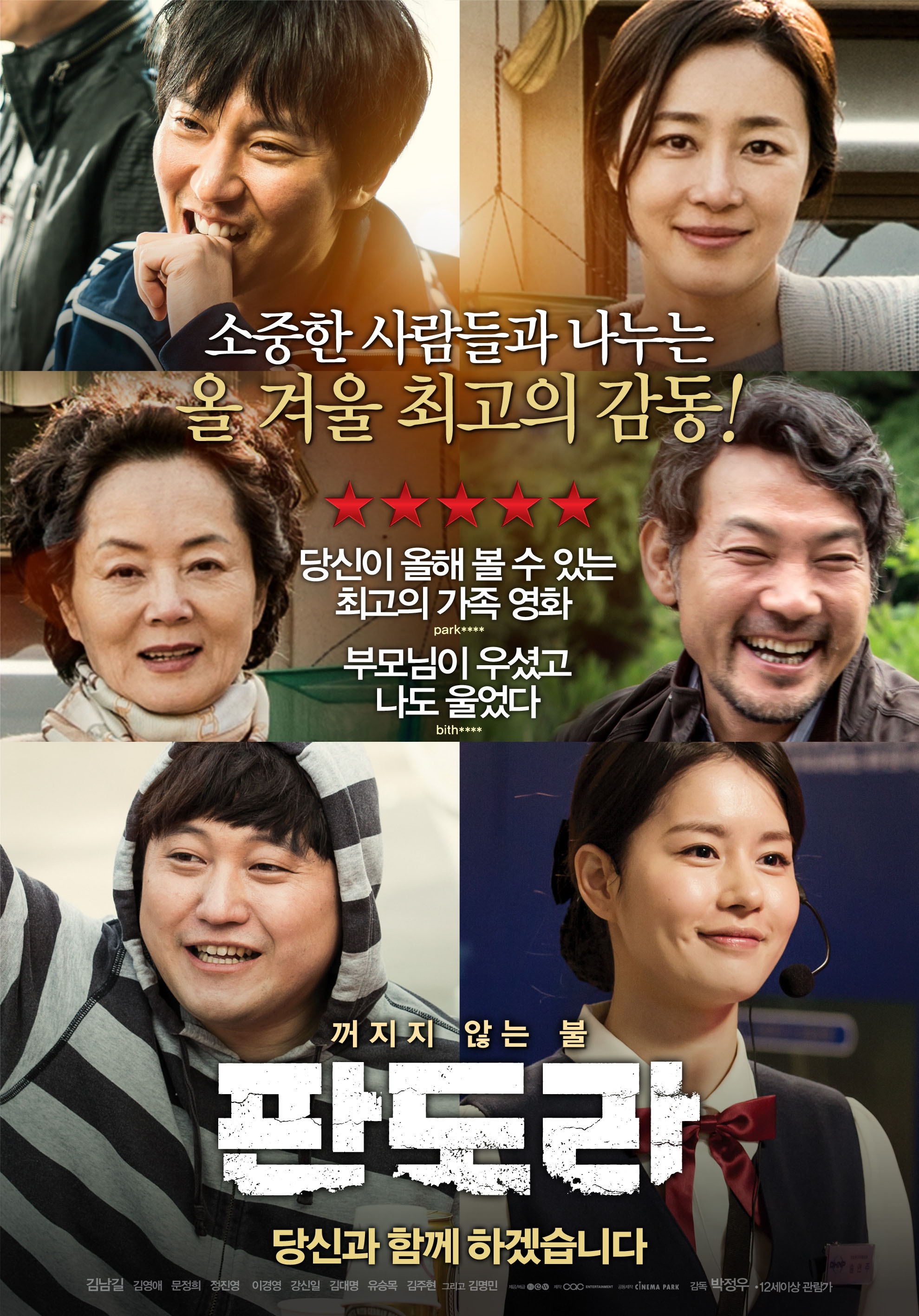 Film - Source: main website

The Blue House wields strong influence, even over public funds invested in movies. In fact, half of the movies of Korea over the past 10 years depend on these funds. At the beginning of 2015, the Investment Decision Making Committee was founded. This committee started to review movies for investment, and political movies were practically disqualified as investment candidates. , which premiered last winter, is a prime example. is a disaster film about the explosion of a nuclear power plant caused by an earthquake. It was later revealed that the investors took back their offer due to ambiguous reasons, which raised some controversies. There are stories that claim the existence of "blacklists" in the culture industry. In the film industry, these "stories" are accepted as fact.
Such cases also existed during the MB (previous) administration. The movie <26 Years=""> was about a family of a deceased Gwangju Democratization Movement Activist attempting to assassinate former President Doo Hwan Jeon. The film was cancelled right before shooting because the investment was rescinded. Rumor was that the representative of the investment company was called to the Blue House, and then the investment was cancelled. After that, <26 Years=""> was produced by individual investors, who put up the money through a united effort. The MB administration was much more subtle than President Park's, which was shamelessly more explicit. Regardless of the stories' authenticity, the fact that rumors exist about a 21st century government having total control of the film industry is, by itself, a sign of societal regression. A "blacklist" in the cultural sector signals a step backward for a society.
Last year and the beginning of this year has seen many political satire movies in theaters. Last summer, the movie symbolized today's state of affairs despite being a zombie movie. instantly reminds us of the Sewol incident. , which premiered this January, is attracting audiences' attention through the depiction of politics and the world of prosecutors. As movies take 3 to 5 years from planning, production, to premiere, this means that the producers of these movies are a half step ahead of the times. Movies that deal directly with politics are being created quickly. This summer, , which tells the story about a taxi driver who gave a ride to a German reporter to his way to the Gwangju Democratization Movement, will open in theaters. CJ E&M decided to invest and distribute <1987>, as if to show it to the government. <1987> is about Jong Chul Park's torture that resulted in his death. This, of course, signifies a change of an era.
When something that was suppressed is released, the force of the release tends to be great. Not all that is release, however, is good. Political satire is great, but there is a risk of merely offering sardonic pleasure and nothing else. It's dangerous to mock solely for the sake of mocking. Director Jang Jin, when directing , stated that he "will do satires but no mockeries". This is important. Satire and mockery are very similar, but the small difference is key. The reason there are criticisms against various satirical shows is because they've failed to recognize this small difference. "President-bro" was criticized for the line, "after 2016, Yura Jung, no excuse me, 2017(sounds like Yura Jung and a swear word combined) has come". This is a lazy mockery. There was also a similar satirical cartoon. They have failed to recognize that their criticisms also had negative implications against the disabled and to women. DJ DOC not being able to perform "Addressee Apparent" that criticized the status quo in last year's candlelight demonstrations because it had misogynic content is a similar example.
Some claim that political correctness (PC) forces too much solemnity. Some argue that the reaction force against PCs have elected Donald Trump as president. This is still not true in Korea, however. PC in Korea has just begun. Until the abnormal becomes the norm, we still have a long way to go.
There is criticism that asserts that political correctness shackles the public media. This is because most laughter comes from making fun of other people. There are also claims that political correctness limits the imagination.
We can find the answer in the American popular media, where political correctness is standardized. Right after 2008's presidential elections, the U.S. internet news media reported that affected the polls. Public opinion research institute First View stated that, "Among the 10% of voters who said to be affected by , 59% voted for Obama and 39% voted for McCain." The U.S.'s mainly does political satire. Before last year's elections, actors impersonating Donald Trump and Hilary Clinton were featured every day. Alec Baldwin, playing Trump, admitted that the "hacking that took place during the U.S. elections was by Russia" until a Vladimir Putin impersonator threatened him with a sex tape, half-naked, saying "Are you really sure that it was Russia?" Baldwin then replied, "No. It was China. Canada. Or Meryl Streep," on the show. Of course, President Trump attacked the show on Twitter, saying it was "the worst TV show with no humor." The U.S. media responded that he should not watch the show, then. Because of SNL's influence, famous targets who are lampooned often show up on the show themselves.
The U.S.'s media dangerously hops between satire and mockery, while still trying to strike a balance with political correctness. Overall, these efforts receive wide support. Despite several criticisms, both the conservatives and liberals agree on protecting the freedom of satire.
The reason Alec Baldwin mentioned Meryl Streep as the perpetrator of the hacking was because she scolded Donald Trump after winning a Golden Globe last January. Although Meryl Streep didn't mention Trump's name once, she made many criticisms targeted at him. She said "And this instinct to humiliate, when it's modeled by someone in the public platform, by someone powerful, it filters down into everybody's life, because it kind of gives permission for other people to do the same thing. Disrespect invites disrespect. Violence incites violence. When the powerful use their position to bully others, we all lose."
As Meryl Streep's acceptance speech was going on, Choi Soon Sil's hearings were airing on Korean television. Cho Yoon Sun, the minister of Culture and Sports, acknowledged the existence of a blacklist by stating, "I deeply apologize for causing significant pain and disappointment to artists, as well as the Korean public, with this blacklist problem".
In a country that has a blacklist that cuts support to artists who criticize, until political correctness becomes a social norm, we must continue to be concerned, compromise, and discuss. As popular media has the strongest influence until political correctness is established, it must be more thoroughly proven.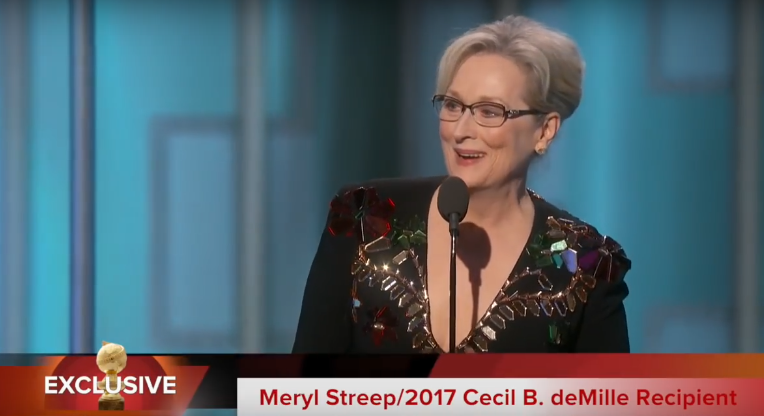 2017 Meryl Streep on the stage at Golden Globe Awards ? Source: Golden Globe homepage
Meryl Streep said the following in the Golden Globe Awards.
"We need the principled press to hold power to account, to call them on the carpet for every outrage. That's why, that's why our founders enshrined the press and its freedoms in our Constitution. So I only ask the famously well-heeled Hollywood Foreign Press and all of us in our community to join me in supporting the Committee to Protect Journalists. Because we're going to need them going forward. And they'll need us to safeguard the truth."

The founding fathers of Korea also took media dearly. The freedom of speech is clearly stated in our constitution. We've already felt that it was the power of media that let the world know of Choi Soon Sil Gate. We shouldn't simply applaud the many satire just because the era of regression has ended. To prevent such corruption from happening again and to have political correctness in satire, we must continue sharp criticisms.
It's not just the media. "Because we're going to need them (journalists) going forward. And they'll need us to safeguard the truth." This applies to Korea as well. In candle light demonstrations, we hear not our traditional songs but SNSD's "A Whole New World". This proves the strength and the importance of correctness in popular media. When satire abound, we must open our eyes even wider.
name : Hyung-Hwa Chun
profile : 'Money Today' reporter