Culture & Issue
HOME
> Hallyu insights >
Culture & Issue
A Delightful Interpretation of Korean Culture and Cultural Diversity - Interview with Creator Team "My Korean Husband"
[등록일]2017-03-03
[조회] 1048
There is a blog that any foreigner who is interested in Korea and Korean culture?such as an international student studying in Korea, tourist, or power blogger?may have heard about. It is "My Korean Husband," which shares the interesting differences between Korean and Western culture. In a blog and a YouTube page that Korean man Hugh (Kwon Soon-hong) and Australian woman Nichola manage together, there are comic strips and videos about their story of overcoming cultural differences. I met the couple who happily smile when they think about subscribers laughing and crying because of their content and the same time, seriously contemplate multi-cultural families who are facing difficulties in Korean society.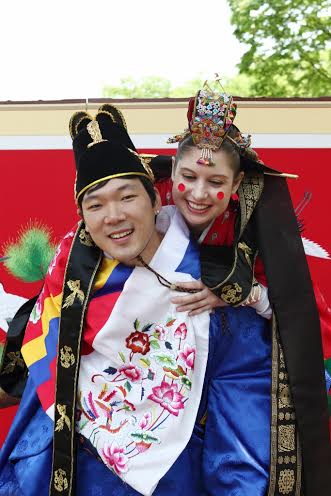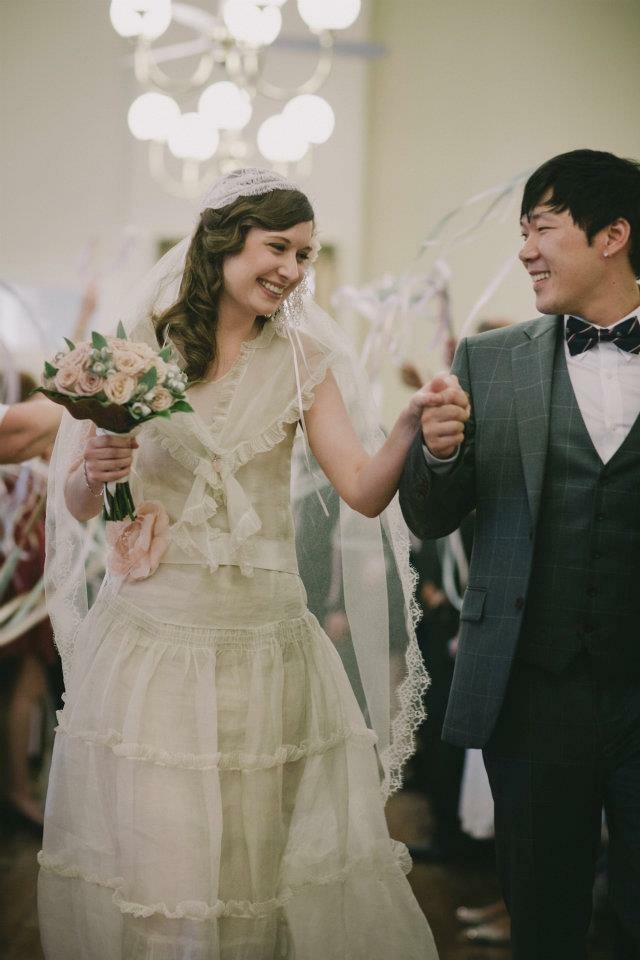 Kwon Soon-hong(Hugh) and Nichola's wedding ceremony
Q. You are a couple, so I cannot begin without listening to your love story. How did you two meet and marry?
Hugh: I was in my early 20s. After finishing the military service, I did a lot of wandering and then went to Australia for vacation. I worked hard and was able to afford my school expenses. I did not want to leave Australia, so I entered a university in Sydney. As an international student, I wanted to diligently study English, so I searched online communities searched for a person with whom I can do a language exchange. After going through several people, I met Nichola. It was love at first sight. This might sound strange, but I asked her on a date on the day we met. Of course, I got rejected. Fortunately, we were able to practice our language exchange, so I did not give up. I treated her with sincerity more than anyone else, and after a month, she opened up to me.
Nichola: I first encountered Korea in 2008, through a Korean friend I met at school. When I was spending my university years in Sydney, my roommate was a Korean, so I continued to be exposed to Korean culture. That's how I became interested, even though it was sad to see my Korean friends leave after a year or two. That's why I began my language exchange with Hugh. Hugh had better English than my other Korean friends, so we were able to talk about a lot of different things.
Hugh: After three months of dating, I went to see Nichola's parents. They liked me, as I respected elders and they saw that I treated Nichola well. After two years of dating, my visa expired. I had to leave Australia, but I did not want to part from Nichola. We naturally decided to get married. My hometown is Sancheong, Gyeongsangnam-do Province. I took Nichola with me to Korea, and as soon as we sat down in front of my parents, I said, 'We want to get married.' I was worried that they would not accept, but they approved right away. My parents had faith in us; when I was in Australia, I showed them how I was not the man I used to be in Korea since I was working diligently and studying hard. There are many cases where parents are opposed to an international marriage. That wasn't the case with me, so I'm grateful.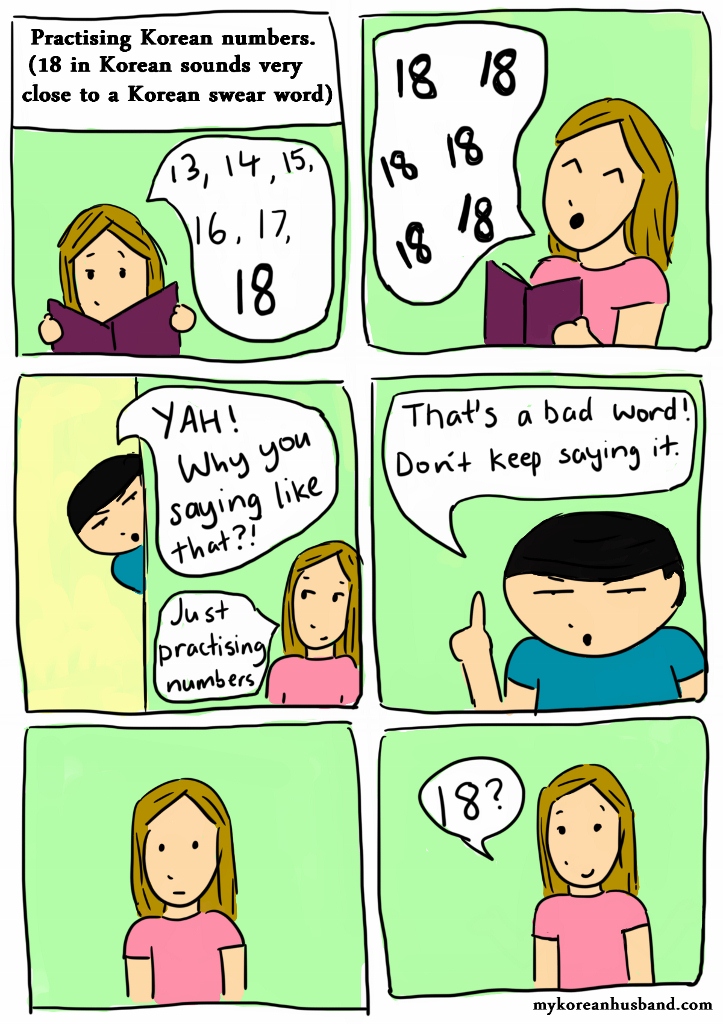 Q. You are now running a YouTube channel, but didn't it all start with a blog? What was your motivation for starting "My Korean Husband?"
Nichola: It was when we were living in Sydney as a married couple. Hugh and I had different cultural backgrounds, so we wanted to understand each other more. I also wanted to help Koreans who came to Australia for the first time and were adapting to Australian society. At first, I wanted to write a book. As part of my research, I typed "Korean husband" on Google and was surprised to find that almost all the search results were negative. It was unfortunate to see that because my Korean husband was a good person and so were the many other Koreans I had met.
This led me to start a blog before writing a book. After contemplating on a good method to explain cultural differences between Korea and Australia I decided to draw a webtoon to share what I learned from a humorous standpoint. At first, it was very hard. Although my major in university was art, comics and online-based webtoons are a completely different genre. Furthermore, because it was at the initial stage, there were almost no subscribers. In order to attract visitors, I drew and posted a comic strip every day and did this for a year. Fortunately, my husband has a quirky side, so I never ran out of subject matter, but it was not easy to produce content every day. Sometimes I had to leave during dinner with my friends to come back home, but I did not stop. It's not like all blogs make a lot of money, so I wasn't driven by that. It was just the thought of being helpful to many people that kept me going. The increase in our daily visitors also gave me motivation.
Currently, my blog, "My Korean Husband", has new content every week or two. In Line Webtoon, an international platform under Naver Webtoon, I am present a new comic strip every Tuesday, once a week, under the nickname "Nicholalala."
Hugh: Most of the content is about our daily life. It addresses what it takes for an international couple to get married?other than love?and argues why multi-culturalism is not a bad thing. It also covers cultural differences between Korea and Australia. There are still negative perception of international marriage, so we want to show what it is actually like. I think we have already attained some of our goals. If you type in "Korean Husband" on Google, our content appears at the top.

Q. Your blog has quite settled down, so it must have not been an easy decision to engage in a new challenge. How did you come to start the YouTube channel?
Nichola: The idea was totally Hugh's. I did not like the idea at first. In the blog, we present comic strips or other content, but for videos, we have to reveal ourselves. Also, I knew nothing about filming or editing.
Hugh: That's right. I remember when I first started it in Sydney during the spring of 2013. Then, Nichola was presenting the comic in the blog every day, and we had about 800 subscribers. A member of the press in Korea asked for an interview, so we told them our story. After several days, when we were on the verge of forgetting about the interview, messages were suddenly flooding through cell phone and e-mail. Too many people were visiting our blog at the same time, so the site went down and we received a complaint from the operating company. We were incredibly surprised. What happened was that our interview was a hot topic at the portal site. In three days, we were asked for an interview on the radio, for an appearance in two or three documentary films, and for the publication of our story from a publishing company. Before this, Nichola and I were leading a peaceful and quiet life in Australia: I was a casino dealer, and she was a blogger. This event showed me the impact of media. I was very excited about being able to tell our story to a lot of people.
Also, at that time, we became acquainted with famous YouTubers such as "Eat your Kimchi." This led me to think that if we make good content and attain stable earnings, by just managing a YouTube channel, we could live in Korea. So I accepted the challenge. We did not know anything, but believed in the power of creative topics and content of "My Korean Husband." Thus, we bought a camera from eBay.
Nichola: Because I was married to a Korean man, I wanted to live in Korea. Hugh had been living apart from his parents for 8 years. I opposed the YouTube idea at first, but eventually thought that if we lived in Korea, we would be able to make better content.
First, Hugh learned basic editing techniques on his own. I think all other YouTubers start this way. Rather than being experts on video, many of them are amateurs like us. My younger sibling is a musician, so along with a friend, they made an opening song for us. Fortunately, many subscribers like, it so to this day we are using it as the opening song. Like when I started the blog, there were temptations to increase the number of our subscribers. For instance, a commonly used theme was a story between a white woman (American woman) and an Asian man (Chinese man), but this was completely different from ours so we avoided it. We thought about content that only we can create and what our subscribers want. As an international couple, we decided to focus on cultural diversity and cultural differences. This is not an issue particular to the Korean society as there are various ethnic groups around the world and a lot of misconceptions about multi-culturalism. We wanted to make a channel where we can resolve such misunderstandings, open up appropriate discussion, and share the daily life of an internationally married couple.
Hugh: The YouTube channel first began in Sydney, but it was in Korea when we really began to actively participate in it. Actually, things did not work out in Korea at first. We needed stable income. Nichola's efforts for a month led her to become an official author at Line Webtoon. After that, we were able to focus on our YouTube channel.
Q. What reactions do viewers show? You are running two different platforms, the blog and the YouTube channel, so I assume you know the differences between the two. Also, I am curious as to the demographics, particularly countries and age groups.
Nichola: Just a few years ago, many comments were up on the blog. Now, due to the change in the media environment, almost all people react through social media. Groups who tend to remain in the blog are usually middle-aged. and most of them don't post individual comments.
YouTube has a very different atmosphere. Most of the audience is young, so reactions are immediate and their expressions are creative. There are some old fans who know everything there is to know about our videos. It seems that viewers from the blog and those from YouTube do not overlap. There is a tendency, I think, in which people who like comics only read comic strips, and people who like videos only watch videos.
Hugh: There are many memorable comments from YouTube. One comment said, 'I want to meet you guys.' At first, there were a lot of reactions from international couples who were in a similar situation as us. One time, a famous celebrity who appeared in KBS's commented, 'I am enjoying the show.' It was amazing and encouraging?we received recognition from a celebrity who professionally works for broadcasting.
Nichola: I cannot pick the most memorable comment. All reactions are precious to us, and I'm grateful for them. Of course, there are trolls, but this is a problem that all other YouTubers face, so we try to laugh it off.
In regard to national demographics, the United States and Australia take up the highest proportions. What follows, in order, are Korea, the UK, Canada, Indonesia, Malaysia, Singapore, and South Africa. On average, our videos are viewed from 160 countries. It is difficult, but we provide subtitles in Korean, English, and Arabic for our videos.
The subscribers ask through e-mail and comments on various topics, but we cannot answer all of them. Thus, we choose a day and time and do a live show. This way, we don't have to spend our time editing, and we can show who we really are and communicate with subscribers in real time. Our live shows have gotten good reactions. Many questions are about our daily life, what we ate, and what we did in Korea. Then, there are people who plan to travel Korea, so they ask us for advice on food and tourist sites. Furthermore, some people ask about a scene from a Korean drama or a Korean film because they did not understand the situation due to cultural differences.
Q. You do not have any other job, and you focus solely on content creation. What are advantages and disadvantages of this?
Nichola: There are more advantages than disadvantages. First of all, you do not have a designated time to go to or leave work, so you can use your time freely. Also, it always cheers me up when I see an increase in "Likes" and positive comments in the blog, YouTube, or SNS.
Hugh: I feel proud to get feedbacks that says how our content was helpful. I was very impressed when I saw a comment that read: 'I had a lot of prejudices toward multi-culturalism, but I changed my mind after watching the video.' If there is even one subscriber who is like this, we want to continue our work.
Q. When you collaborate with other YouTubers such as "British Man" or "Australia Sara", are there rules you try to keep?
Nichola: The most important thing is to create content that can entertain subscribers from both channels. No matter how close I am with another YouTuber, we cannot just collaborate without any good reason. We need an appropriate topic and good content, and we've got to plan it. What we can offer one another needs to be clear for us to do a good collaboration.
Hugh: That's right. The temptation that many YouTubers fall into when they first begin their channel is collaboration with another YouTuber who has a lot of subscribers. This is the point we were cautious of when we were planning to collaborate with the "British Man" team. They had three times as many subscribers as us. We pondered on how help we could help each another. The "British Man" team wanted to experience country life in Korea, so we were able to help them out because my parents live in a country village in Sancheong, Gyeongsangnam-do Province. This was also good for us as we could gain attention by collaborating with the "British Man" team, who has a lot of influence on YouTube. In reality, after presenting the collaboration video, the number of our subscribers increased by thousands.
If you a YouTube collaboration is just beneficial to one side, then the result is likely to be bad. I'd like to tell new YouTubers that, rather than choosing collaborations just for the sake of increasing your subscribers, we are providing information about the MCN industry and practical tips for running a channel. In order to prevent a foreign YouTuber living in Korea from being lonely, we have gathered such YouTubers and are running a Facebook club called "YouTubers in Korea."
Q. You guys have been working very hard, so it's good to see that you're still passionate about what you do. Do you have any future plans?
Nichola: We are planning a new YouTube channel for multi-cultural families. We especially feel the need for content targeted toward young children. They might face a lot of troubles not only at home, but also in society due to cultural differences. In such cases, even parents who are adults don't know how to act. In many circumstances, teenagers from multi-cultural families have a sad adolescence, more so than other people. Eventually, such teenagers will grow to become members of Korean society. For a healthy society, we have to dismantle prejudices coming from not only multi-cultural families but also from all Koreans. To attain our goal, we need an expert and money, so we are arranging them.
Hugh: We are contributing to several organizations including the Korea Association for Supporting Youth from Multicultural Family. For instance, "My Korean Husband" comic can be educational to teenagers. We wished our content could be used as teaching material in all educational settings, so we have opened up all of our copyrights. There are many multi-cultural teenagers who are bullied at school and need help. When I think about them, I feel sad. Helping them is a task that everyone ought to do, so we are also using our ability to contribute.
name : Minju Kwon
profile : Chief Editor of webzine 'Hallyu Story'