Culture & Issue
HOME
> Hallyu insights >
Culture & Issue
K-Pop Cover Songs Record 10 Million Views, Global YouTube Star Jason Ray
[등록일]2017-07-17
[조회] 1210
Recently, there was a video that received great attention from Korean netizens on SNS. In the video, there were comments such as 'voice of God," 'big hit," 'how is he so good' and 'more soul than the original'. 'Jason Ray' got tens of millions of 'Likes' on YouTube and instantly became a global popular star.
Jason Ray, who translates the lyrics of various K-Pop songs from popular songs to freshly released new songs in English, re-interprets the original songs in his own way with R&B emotions and a soulful voice. As he grew up in the United States, where he became a pop populist, he received professional training at the Berklee College of Music. Jason Ray has developed his own style of K-Pop based on his deep soul and intimacy with his own feelings.
Currently, he has a total of 210,000 subscribers on YouTube and is expanding his position as a new K-Pop star among K-Pop fans around the world. Let's listen to how he first came to know K-Pop, and why he started translating Korean lyrics into English.
Q. Please introduce yourself to subscribers.
Hi, I'm Jason Ray. I studied piano and music recording at the Berklee College of Music, and I'm working as a musician while studying with friends like John Mayer, who has a lot of fans in Korea. There are a lot of friends around me who play music, so I often share serious stories with them. Other than music, I like eating healthy food and enjoying well-made action movies.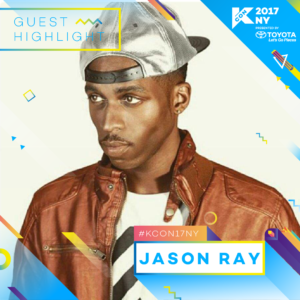 KCON special stage of 2017 in New York last month
Q. You must have listened to a lot of music while getting a professional education in university. When were you first interested in K-Pop? And how did you get started with the YouTube channel?
My relationship with K-Pop goes back to 2012. A close friend of mine recommended me Shiny's song. I thought it was fun and exciting music when I first listened to it. The music itself had a great feeling in it. After that, I listened to K-Pop steadily, and one day, I felt that it would not be difficult to change the Korean lyrics to English. So I with practiced the popular K-Pop songs at the time and released them on YouTube when I felt comfortable with it. My first cover song was Roy Kim's Spring Spring Spring, and I sang songs of popular singers such as Beyonce, Chris Brown, and Bruno Mars in my style. After a year or so, unlike my expectations, many people liked it, and I felt that it was fun. So I've been continuing that.
Q. YouTube subscribers all over the world are praising Jason Ray for having great talent in translating the lyrics of K-Pop into English. Do you have any thoughts about this and your fans? Also, do you have any criteria for choosing your favorite K-Pop songs?
Wow! First of all, I really appreciate my fans. I think I am very lucky to have such wonderful fans all over the world. I sometimes translate Korean lyrics into English myself, but I work with various professional translation teams, too. We try to make sense of the original song as much as possible while conveying proper emotions to English speaking users.
The criteria for selecting K-Pop songs to share with fans is not really difficult for me. Many fans personally ask me to cover certain songs every day through comments and emails. In addition, I always check every K-pop song on Korea's representative sound sites such as Melon, Naver, and M Countdown to keep up with trends.
Q. How do you make a video after selecting the songs to cover?
I think the process of making a video is also easy. I care about the angles so that not only existing subscribers but also new users of YouTube can easily enjoy them. Sometimes I sing with only one microphone in front of me, or sometimes I put the English lyrics on the video. In the case of IU 's "Night Letter," I played with guitar sessions, so me and a guitarist appeared together. I also try to split the screens to express a dynamic piece like 'Fire' by BTS.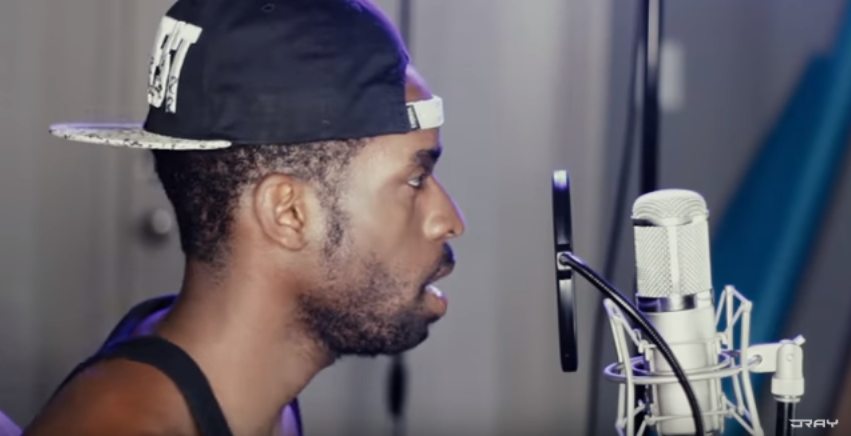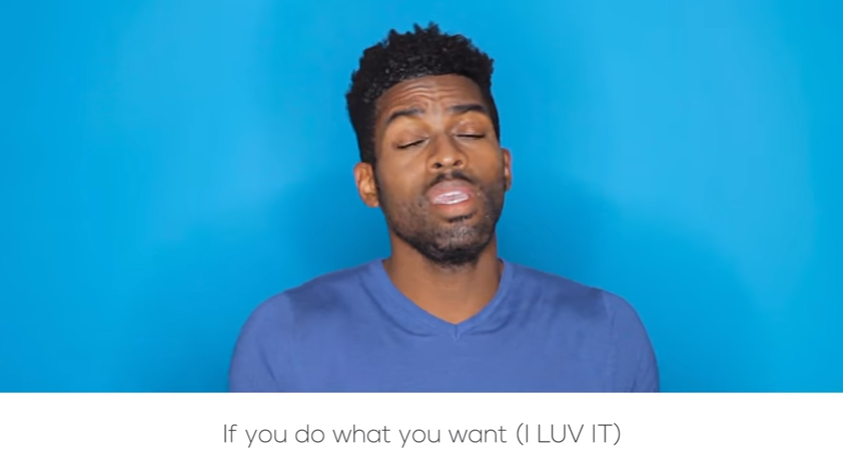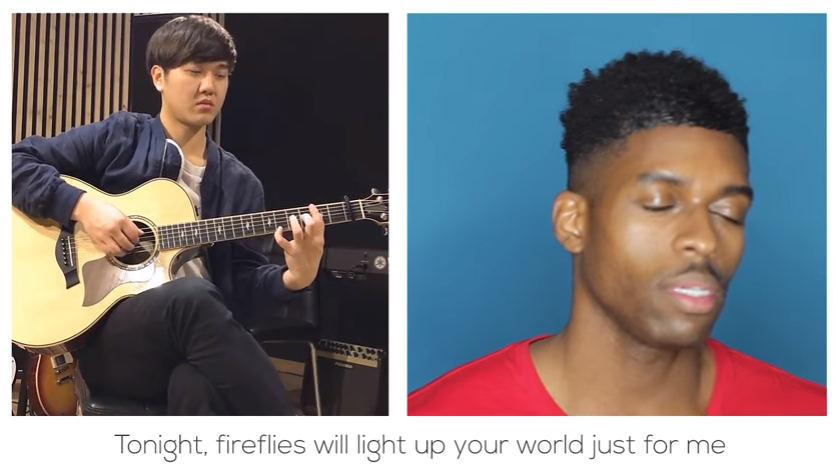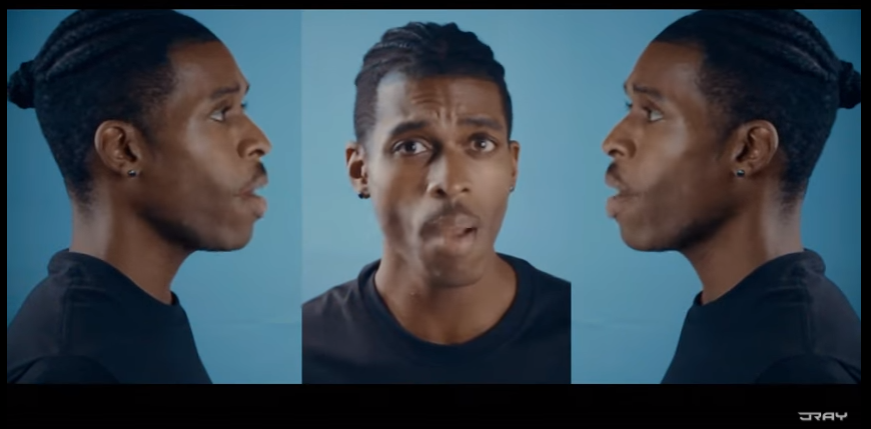 Q. You have appeared on Superstar K6 and entered Super Week. What did you learn and feel?
It was one of the best moments in my life. I never imagined that something like that would happen to me. It was a great opportunity for me to visit Korea for the first time, experience Korean culture, and learn how Korean media is different compared to American broadcasting.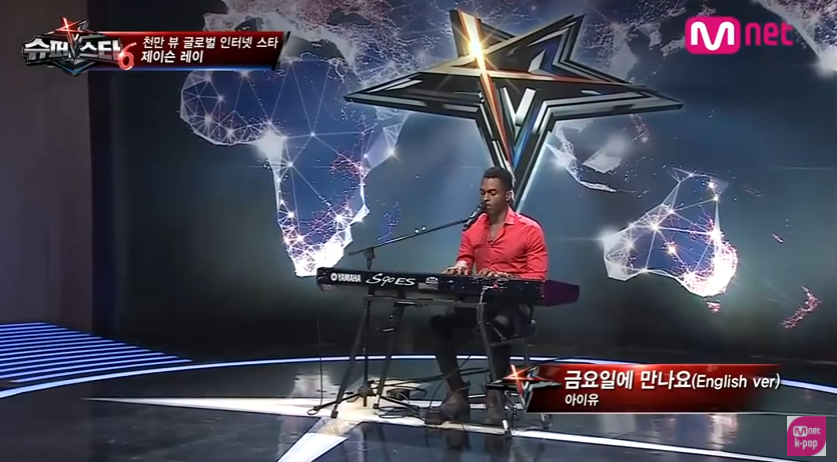 Q. Finally, please tell us your plans for the future.
Right now, my plan is to focus on music I make myself. Soon I will be releasing my first album with my name, and I'm looking forward to it. We are also preparing hard to collaborate with wonderful K-pop stars this year. I hope you show consistent interest and love in my activities. Thank you.
* Interview / Summary : Kang, Gi-hyang, Correspondent in New York, USA