Culture & Issue
HOME
> Hallyu insights >
Culture & Issue
Behind the Produce 101 craze - Citizen Producers at the center of Wanna One
The evolution of idol fandom from followers to supporters
Never before was there a group of newcomers receiving such an explosive response from fans. They are literally "the best ever," and this expression is no exaggeration for them. The new idol group Wanna One (Daniel Kang, Park, Ji-hoon, Lee, Dae-hwi, Kim, Jae-hwan, Ong Sung-woo, Park, Woo-jin, Lai Gwan-lin, Yun, Ji-sung, Hwang, Min-hyun, Bae, Jin-young, and Ha, Segon-woon) selected through cable channel Mnet's show Produce 101 Season 2 made their debut and landed on "Flower Walk." The Wanna One members, who were only trainees yesterday, gained superstar popularity in just 123 days and came close to the dream they had been hoping for.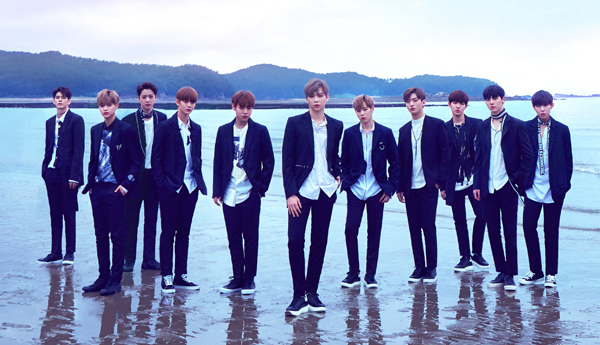 Wanna One - Source: In courtesy of YMC Entertainment

On August 7, Wanna One's debut showcase was held at the Gocheok Sky Dome in Seoul. The 11 members of Wanna One welcomed 20,000 enthusiastic fans on their debut stage. It is unusual and unprecedented for a newcomer group to make their debut at Gocheok Dome. At the 2-hour , Wanna One introduced the story behind their debut album "1X1 = 1 (TO BE ONE)' as well as behind-the-scene tales of their music video. They also presented self-made news clips under the title "Wanna One News."

At the , Wanna One frequently mentioned the "Citizen Producers" and expressed their appreciation in a highly emotional manner. 'Thanks to your support and encouragement, we made it to the debut stage of Gocheok Dome. Thank you so much. We were trainees who longed so dearly for this debut?thanks to our Citizen Producers, our dream came true as Wanna One. We couldn't have imagined this without you. Thank you so much.' Wanna One shone like stars on stage, attributing their glory to over 20,000 Citizen Producers.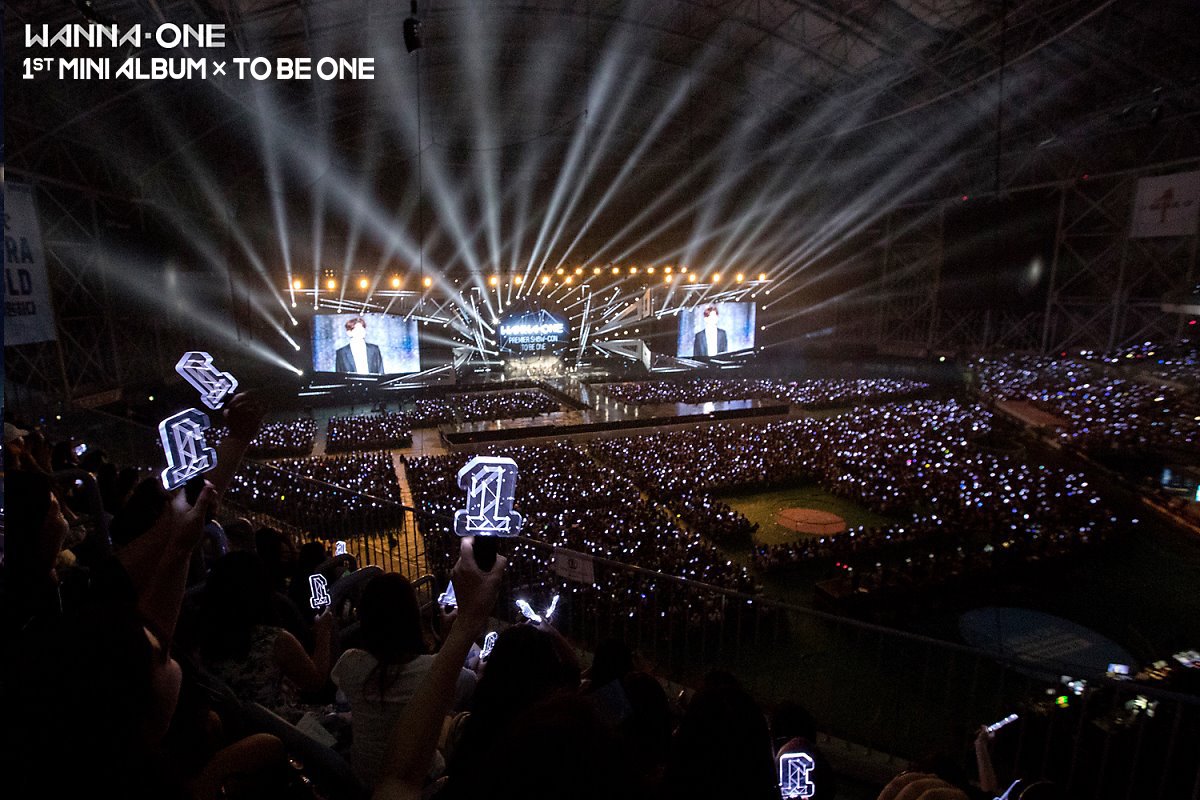 On the scene of - Source: In courtesy of YMC Entertainment
Wanna One won tremendous popularity even before their debut, which is due to the popularity and public attention for the program "Produce 101 Season 2," which started last April and lasted for about three months until June. It had a remarkable ripple effect with viewer rates exceeding the previous season by many times. In the backdrop of the formation of Wanna One's huge fandom, there was the "Citizen Producer" system?the core element of the Produce 101 series.

In the past, the audiences who led the golden age of audition shows were the viewers who participated in the phone and SMS voting. In the Produce 101 series, the main force is the so-called "Citizen Producer." Viewers of the audition program were only allowed to cast votes for their supporting cast or team, while the audience for the "Produce 101 Season 2" act as the force behind the program by being given the status as "Citizen Producers." This show treats each viewer as a producer, building a relationship between the cast and fans that is much stronger than just simple fandom. The Citizen Producer will support his/her "One Pick" with all means possible to include him in the final 11 members. This is 's differentiating point and absolute factor of fandom formation.

Viewers who are invited to act producers became invested in every move by Wanna One. A producer sets the concept of his/her singer and draws the big picture for their future. Viewers who have established their identities as Wanna One's Citizen Producers are directly or indirectly involved in their work. The name of the team, "Wanna One," was chosen from suggestions in a public contest. The title song "Energetic" for their debut album "1X1 = 1 (TO BE ONE)" was selected after getting the most votes by Citizen Producers, followed by "Burn It Up." The name of its fan club ("Wannable") was also decided by the fans themselves. Right after the debut, there was a debate on the relatively scarce stage role of Daniel Kang among some fans, which was immediately reflected in the next stage after prompt feedback. In addition, Wanna One and the Wannables call each other the "Perfect One" and actively communicate with each other.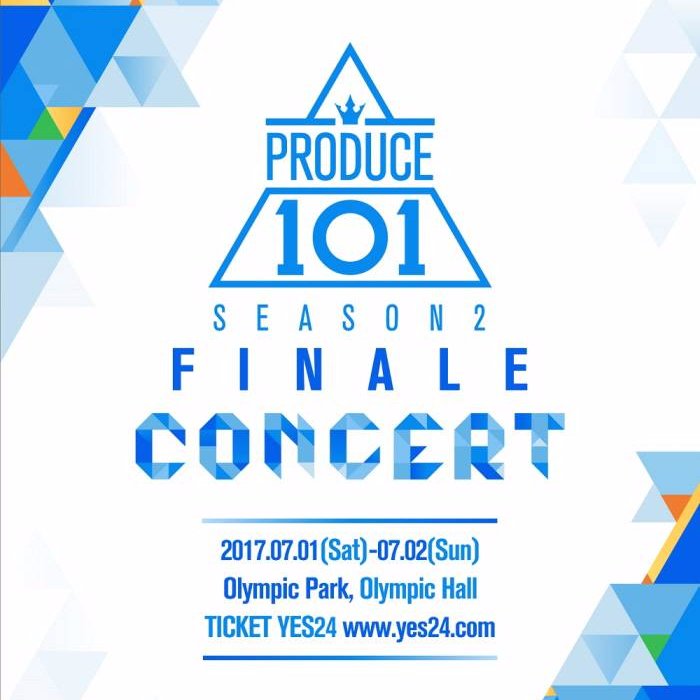 Final concert of ? Source: YES24
A newcomer group born in this way is naturally guaranteed success the market. Wanna One is showing off its unrivaled presence in domestic broadcast stations and the advertising industry with the support of Citizen Producers. Wanna One content has surpassed the handicap of cable broadcasting and made their breakthrough in terrestrial broadcast stations as well. Wanna One is loved by commercials, variety shows, and music shows of various broadcast stations including terrestrial broadcasters. After winning the first place in the music show only nine days after their debut, they never missed the top spot and swept 11 trophies within their first three weeks of debuting. This is record-breaking among all rookie groups in the history of the Korean music entertainment business.

The presence of Citizen Producers has subdued the tremendous planning power and market dominance of leading domestic entertainment companies such as SM-YG-JYP. In fact, Wanna One earned a different competitive edge from the starting line compared to rookie groups planned and released ambitiously to the market by SM-YG-JYP. There is no doubt that they are a new dark horse in the music scene led by the rivalry of SM-YG-JYP, the 3 major players in the game.

At this point, the parties of the Korean popular music scene say that the evolution of the rookie production mechanism has begun. In the past, a small group of producers set up a new group and produced all the content including later production one-sidedly. Now, it is the trend to put the public at the forefront of group production. In the idol market, which is in fact the largest piece of "pie" in domestic music industry, fans are no longer followers but supporters. Fans don't just want to stand in the background and chase their singers, they want to exercise their rights and power, revealing their presence in full. Now, the era has come where producers, artists, and fans have teamed up with each other to form a three-party system of communication.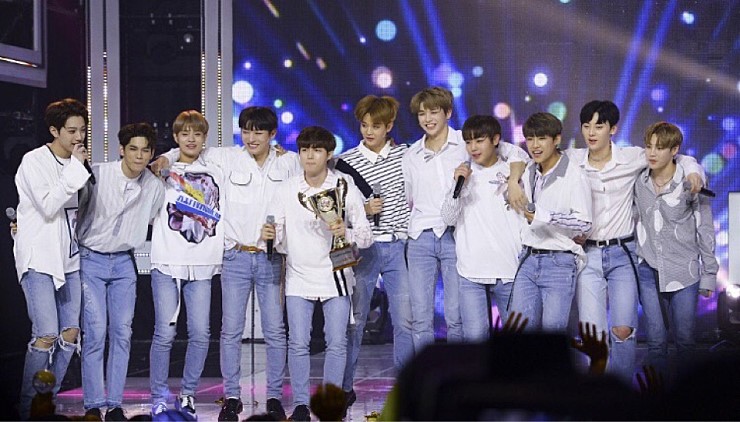 Wanna One members in joy holding the No. 1 trophy ? Source: TV show screen capture

However, there is a problem that comes from the artists and fans' horizontal relationship: "groupies" who cross the line of a healthy artist-fan relationship are more common than ever. For Wanna One, their numerous Citizen Producers act as double-edged swords. As the number of fans increases, the number of groupies also increases proportionally. Any popular idol suffers from groupies, but Wanna One's case was extreme since their debut because their relationships with fans was especially close. Not only do they chase Wanna One throughout their entire daily schedule, but they also approach the members too closely, ignoring all the rules. There was even an incident where fans pushed so hard that the safety fence collapsed, causing mental and physical injuries to members.

When matters reached this stage, Wanna One's united fan club Wanna One urged YMC Entertainment, who is in charge of the group's management, to assign security guards for Wanna One and conduct educational sessions for members and related parties. At the same time, Wannable also asked for a list of groupies and a penalty notice. YMC has taken immediate action. With the movement of self-examination and correction within the fandom, voices to promote healthy fan culture are on the rise. However, despite the groupies issue, Wanna One should not overlook the fact that their foundation is based on their Citizen Producers. Although accompanied by the planning power of Mnet's and the ripple effect of broadcasting, it was the fans that led and will lead Wanna One to the top.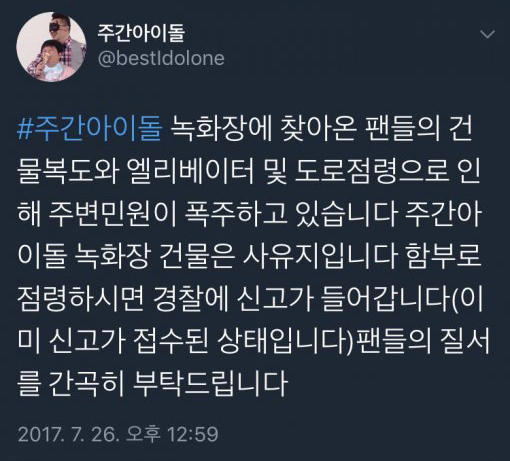 The producing team of taking charge when Wanna One fans took over the studio building and nearby road ? Source: Twitter account
Finally, there are some inherent limitations to Wanna One. Wanna One is a project group that will end on December 31, 2018. After two years (including the appearance of ) as a group, the group's members will discard the name Wanna One and resume their careers under their respective names?so it is not an exaggeration to say that the group's days are numbered. Wanna One, made up of members from various entertainment companies, is a group that makes fans feel sad and affectionate because their end is already set.

Although Wanna One has its limits compared to other groups that grow older with their fans as their 10th and 20th anniversary passes, it is clear that the best they can do is to leave intense memories and remarkable records in their given time. Yet, the end of this group is another beginning and expansion of Wanna One, reaching out to fans in their own respective careers.

Many would remember the beginning of , where 101 trainees stood up and bowed, greeting their audience with these words, "Thank you, Citizen Producers!" The moment Wanna One invited the viewers as their Citizen Producers, their bright future was one step closer for them. When called the viewers "Citizen Producers," they came to Wanna One and became their biggest supporters ever.


name : Choi, Ji-ye
profile : Reporter of 《My Daily》