Culture & Issue
HOME
> Hallyu insights >
Culture & Issue
Evolution of K-Fashion, which is Attracting the Global Market's Attention
Dongdaemun, with its history of Koreans" love for fashion, has long been a must for foreign tourists who call it "DDM." Famous domestic fashion brands are making names for themselves with their attractive design and good quality. They are entering famous department stores worldwide and have become highly respected in the global market. Yoon Na-mi, who is the Lotte Department Store general buyer, talks about K-Fashion and how it is enjoying its current popularity.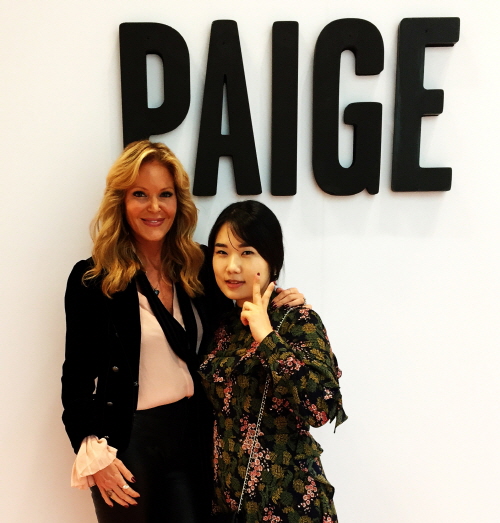 Lotte Department Store general buyer Yoon Na-mi (right side of the picture)
Is it because I am Korean? Almost all the clothes we see and wear in everyday life are considered K-Fashion, so I wonder what K-Fashion actually is.
In fact, fashion is not a concept confined to any one place. As you said, it's hard to discern any specific elements and call say, "This is K-Fashion." I searched for keywords such as "K Fashion" and "Hallyu Fashion" on a famous portal site, and the definition I found was that it was "Korean fashion derived from clothes worn by the main characters or singers who appear in famous Korean dramas that are part of Hallyu. I think that the reason that K-Fashion is known around the world is thanks to Hallyu influences such as Korean dramas, movies, or K-Pop. If I look at a lot of trade shows from abroad, I can't clearly define it, but there are some clothes that make me feel like "It's definitely Korean style" after I examine their color, silhouette, and detail. In fact, 70 - 80% of them is actually made in Korea.
What are some of the most notable fashion trends in the global marketplace? And how is K-Fashion's position when compared to other countries'?
When I look at trade shows, I tend to see three trends on a regional basis. First of all, the North American style based in the U.S. market is very simple and practical, so it is neat without any extra decorations or flair. The colors are also mostly basic. In the case of Western European style, the clothes are very colorful, and the details and patterns are also gorgeous. The Nordic style features a simple design, but the colors are gorgeous. I can see that these tend to be the three major categories of fashion, which is attracting worldwide attention.

K-Fashion has different characteristics from these major fashions, so it seems to be popular in other countries' markets. There is versatility, in spite of having its own characteristic style. For example, I cannot confidently say, "This is the defining feature of K-Fashion!" Nor can I say there are some things in common elements that always appear in K-Fashion. But there is the impression that color, silhouette, and detail leave that helps me designate K-Fashion. Of course, since I am a Korean, I might just feel, "Oh, that's very Korean." The important thing is that K-Fashion is producing clothes tailored to the taste of global buyers and consumers. In fact, the concept of trade shows itself is actually deeply related to major brands. Looking at the dynamics of the Asian fashion market, in China, it seems that there are no visible issues there, and the reaction of global buyers to Japanese fashion is divided since their style is very unique. Therefore, Japanese fashion is very attractive to buyers who like that mystique, but it is also just as likely to elicit the opposite response. In that sense, K-Fashion has a relatively good position.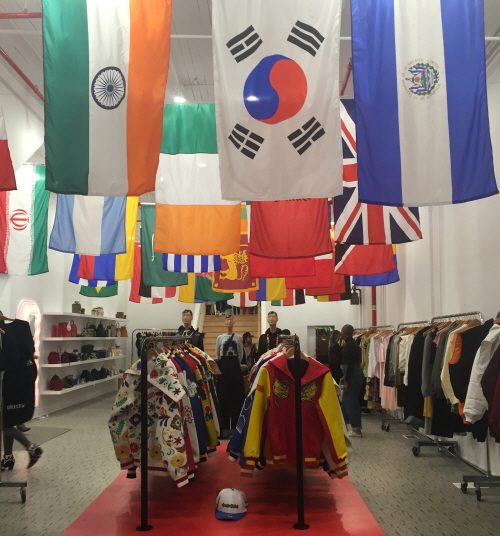 New York's popular boutique "Opening Ceremony" showcases designs using flags of various countries, and the store display also highlights the Korean national flag.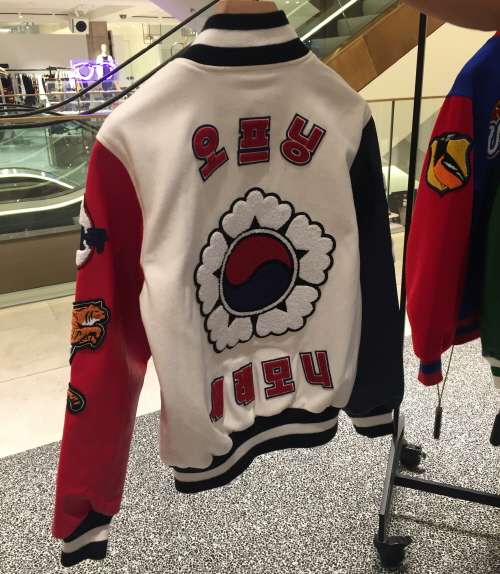 A cloth that uses Taegeukgi motif that appears in "Opening ceremony" Selfridges department store in the UK
Nowadays, I wonder if there is a nation that loves fashion as much as Koreans. Even ordinary people who have nothing to do with the fashion industry have the ability to dress themselves fashionably or to match fashion items to their own style.
Actually, I hear that from foreign buyers. They say ordinary Koreans, just like people working for the fashion industry, dress in styles that suit them well. For example, Korean tourists wear clothes that are different from the ones worn by tourists of other nations. It's hard to find any kind of student carrying purses in pretty heels when attending a lecture in any country in the world. It means that our people are interested in the culture of fashion itself and have the ability to dress themselves well. That also means that Korean consumers are even more demanding. This is my personal opinion, but I think the Dongdaemun system is the fundamental foundation that allows Koreans to enjoy fashion more routinely. While reflecting the latest trends, there are many fashion items with high quality, and the price is very reasonable. If you buy clothes from abroad that have a level of quality sufficient to sell at Dongdaemun, you will probably have to pay a much higher price. That means that Dongdaemun clothing is excellent in terms of design and quality.

I conducted a test on customers before. They had difficulty finding out the origin of the products after cutting out the labels of the clothing sold at the department store and Dongdaemun. In regard to the fashion industry, Korean consumers have a very keen eye, and Korean fashion brands are working hard to satisfy them. Once you do not survive in your country, it is also unclear whether your business can survive abroad, right? On the other hand, Korean customers' keen insight has played a leading role in developing K-Fashion.
What are the K-Fashion brands that are becoming popular in the global market?
Recently, I often find Korean fashion brands in overseas famous department stores and editorial shops. I'm glad to see this as a Korean buyer. I was in Paris recently for work and also saw that Korean fashion brands such as SYSTEM and Juun.J have been put in the editorial office representing Galeries Lafayette. It is not in a major class, but I found the "ADER error" products of Korea at a very hot editorial shop in Berlin, Germany named Boo Store.
There are two major brands that foreign designers or representatives of overseas fashion companies we deal with frequently ask: one is "ADER error," and the other is "LOW CLASSIC." I know that Low Classic gets lots of love calls from department stores in New York. It's a brand with great design and quality. Although the brand is still focused on improving the quality of the product itself rather than expanding the business, foreign buyers are very interested in it. I sometimes find cases where foreign buyers directly buy clothes in Korea, and sell them in their countries.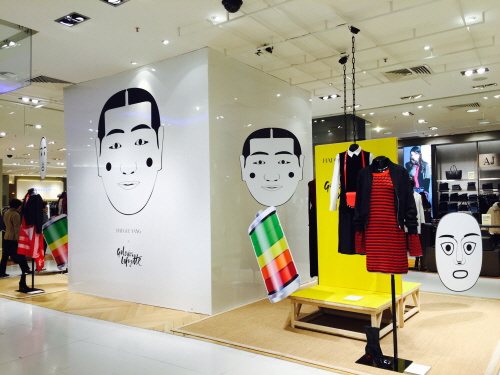 A Korean artist pop-up store found in department Lafayette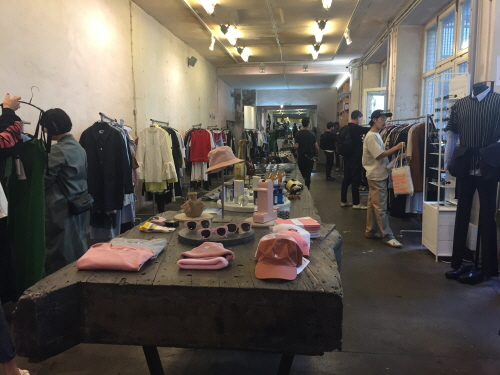 K-Fashion brand "ADER error" being sold in Boo Store, one of the most popular editorial shops in Berlin
When do you feel that the status of K-Fashion or Hallyu is different than it was in the past?
As mentioned above, it is when I see Korean brands enter a main shop of a major overseas department store. There was a brand that amazed me once more at Lafayette department store in Paris that day. It was "Sulhwasoo." You know the front advertisement of the department store, right? The main ad on the exterior was "Sulhwasoo." Achieving that simply isn't possible by paying money. I thought, "K-Fashion and K-Beauty are now finding their place! This is how popular Hallyu has become."
I once went to London and stayed at a very popular place in the UK called Ace Hotel London Shoreditch. When I arrived at the hotel, it was already late, so I asked the front desk if there about decent restaurants where I could eat dinner. I expected a lot because even the hotel staff members there were popular for being very trendy and cultured. I gladly went to a restaurant recommended to me and laughed out loud. It was a cheemaek restaurant. It was a place selling Korean chicken and beer together, and the interior was very stylish.

There is a restaurant in the UK that became very popular three years ago. It is called "Kimchee," which sells real Korean food, not fusion Korean food. They usually serve the spicy kimchi stew that we eat in our daily life, rather than the sweeter fare sold at foreign restaurants. They also sell makkoli-based cocktails. But 80 - 90% of the customers who filled the restaurant were foreigners. I thought, "Oh, it is different from three to five years ago. Now, Hallyu is going beyond just the enthusiasts, and it's reaching out to the general public."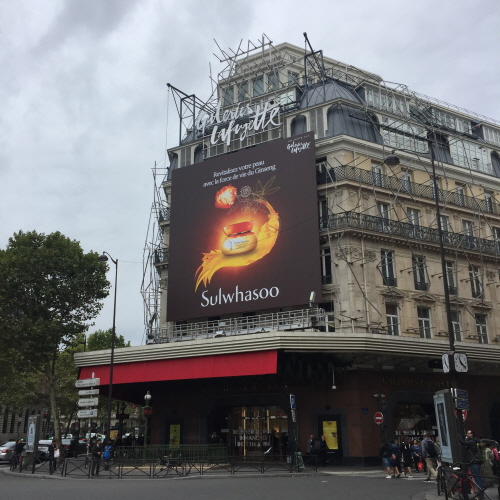 "Sulhwasoo" being shown on an exterior ad of Lafayette Department, Paris
As I listen to you, occupational groups such as buyers or MD sound very attractive to me.
In fact, buyers usually focus on the product itself in a typical fashion company. They pick out the good ones and sell them to the customers after they have been commercialized and managed so that they can be bought. But for those who run an editing shop, like some of Lotte Department Store buyers including myself, the job area is a little special. They are in charge of planning the editorial shop in the department store and the merchandise, as well as the interior of the store. They also employ marketing shop managers and salespeople who are in charge of operations and management. So, it's up to the buyers to worry about how to keep annual and seasonal budgets and plan sales.

From the customer's point of view, when entering a major department store in Korea, it is hard to distinguish one from another because the interiors are similar. This is a special characteristic of the domestic market since the foreign brands in the department store are not diverse. That's why the editorial shop has started to exist from about 10 years ago, and this is a trend to revitalize large retailers. We need to have a way to differentiate ourselves from other companies and industries.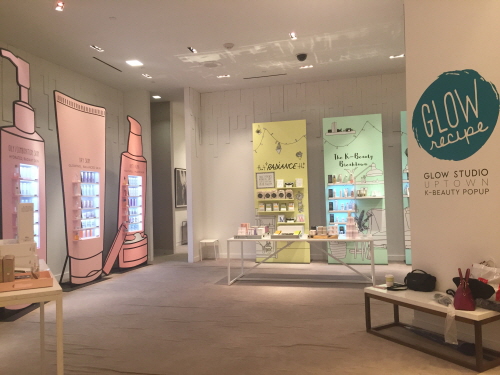 K-Beauty pop-up store opening at the Saks 5th Ave. department, New York, the U.S.
If you have any plans as a Lotte Department Store general buyer, please let me know.
I want to implement differentiated MD that can be seen only in Lotte Department Store. There are imported brands on the third floor of the department store. Brands like Isabel Marant and Sandro are imported from various countries, so the products are different and there's a wider variety. On the other hand, brands that are mainly located on the second floor are made in Korea, so the designer's tastes reflected in clothes are not diverse. It's hard to distinguish the brands of products if you are looking at them by covering the labels. Therefore, I planned such an editing shop where the products are different from those of the second floor. It features young casual brands and greater diversity in terms of style. It's called 'BETWEEN.'

BETWEEN is an editorial shop that was made out of the intention of adding existing import products, while making the price range more reasonable. It integrates youth fashion and contemporary fashion, as well as creates structure in which domestic products can be exported overseas. It has lasted more than three years and has been stabilized by now. I am planning to work hard to improve it even more.
How do you expect K-Fashion to develop in the future?
The future of K-Fashion will be very bright. It has just started entering the major class in the global market, and is in a better position than any other fashion trend in the world in terms of clothing design and quality. Sometimes at overseas trade shows, I see some bad products from overseas brands. I think that when I look at them, "How can you put out such a product at such a price?" On the contrary, K-Fashion is excellent in overall quality. After about five years, not too far in the future, I think K-Fashion can be positioned as a major style in the global market.
name : Min jeong Kim
profile : Contributing Editor of the webzine 'Hallyu Story'