Academic events
HOME
> Main activities >
Academic events
Hallyu forums and seminars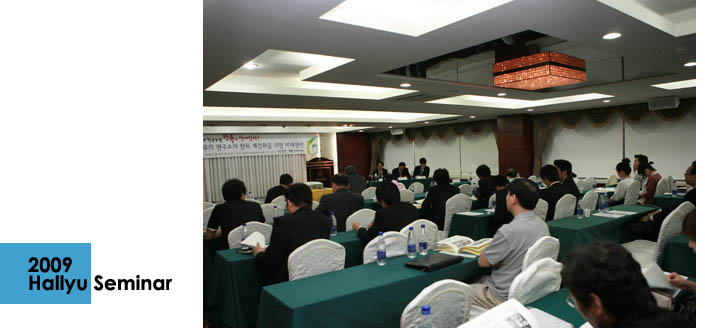 Article view
Date
May 26, 2009 (Tuesday)
Venue
Koreana Hotel, Seoul
Country
Host
KOFICE/Federation of Korean Industries
Supervisor
Sponsor

* Subject : Hallyu Is Alive ? Present state of Hallyu and future strategies for reigniting Hallyu fever

* Presentation
<Session 1>
Presentation 1 : Current state and global competitive edge of Hallyu drama(Vice-president, KIMJONGHAK Production)
Presentation 2 : Current state and development scheme of music industry(CEO Park, Gwang-won, CJ Mnet Media)
Presentation 3 : Market presence status and competitive edge of game industry(Head of department Seo, Tae-geon, KOCCA/Game Industry Department)
<Session 2>
Presentation 1 :Economic effect and outlook of Hallyu(Chief research Koh, Jeong-min, SERI)
Presentation 2 : Roles of Hallyu for overseas market penetration of companies(Head of department Hwang, In-hak, Federation of Korean Industries)
Presentation 3 : Roles of Hallyu for enhancement of national image(Head of Bureau, National Brand Committee)

In '2009 Hallyu Forum' held with cooperation of KOFICE and Federation of Korean Industries, we had a time to deliberate the issues such as movement of Hallyu, scheme to invigorate Hallyu by contents(Drama, music, game) from Hallyu experts. Especially, in this forum, various information and experience e.g., analysis results on Hallyu's economic effect, Hallyu's roles in overseas market presence, and a way to enhance national brand, etc. were shared and discussed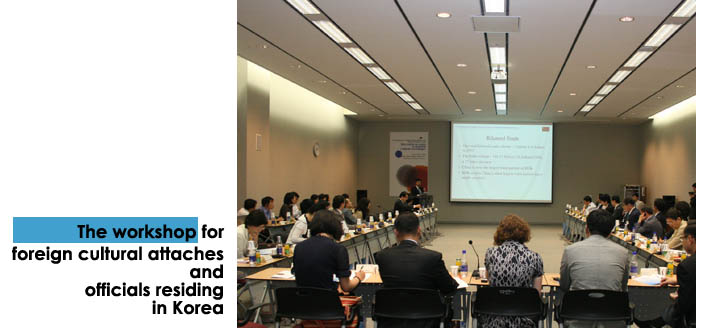 Article view
Date
July 10, 2009 (Friday)
Venue
National Museum of Korea's Education Center (Seminar Room 1)
Country
Host
Ministry of Culture, Sports and Tourism/KOFICE
Supervisor
Sponsor

* Subject: Discussion on the way to invigorate bilateral cultural exchanges
* Attendees : Resident officer for culture in Korea(18 persons from 14 countries), government, relevant organizations, related parties from industrial and academic circles
* Presentation
Presentation 1 : Building a bridge through understanding and friendship among countries(Head of China Cultural Center/Cultural affairs officer Zhao He, Che)
Presentation 2 : Strengthening cultural exchanges between Korea and Mexico(Cultural officer/Third secretary Jorge A. Agraz)
Presentation 3 : Status and outlook of bilateral cultural changes(Samsung Economics Research Institute(SERI)/Chief researcher Koh, Jeong-min)

This event aimed to build an image that our nation is in range with other countries through opening and exchange of culture was hosted by Ministry of Culture, Sports and Tourism and assisted by KOFICE. Until now, opinions of academic circles and relevant organization have been collected frequently, but it is the first time to have an opportunity to share opinions with officers for culture residing in Korea, and thereby it is highly meaningful. This workshop aiming at finding out a way to invigorate cultural exchanges was attended by related parties of Ministry of Culture, Sports and Tourism and other domestic cultural organizations, providing a chance to come up with realistic alternatives to beef up cultural exchanges.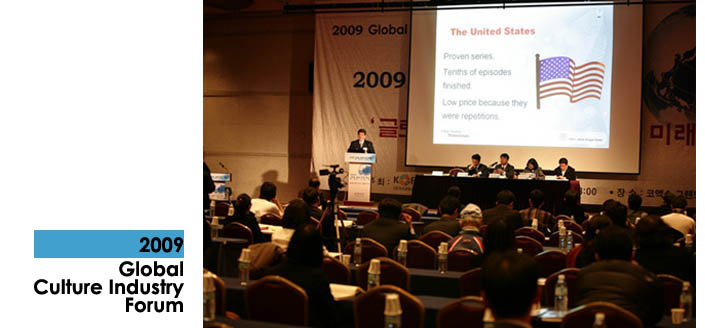 Article view
Date
Thursday, November 26, 2009
Venue
the Grand Ballroom of Coex International Hotel Seoul
Country
Host
KOFICE
Supervisor
Sponsor

* Presentation subject and presenter
<Session 1>
- New model of broadcasting contents business : International distribution of drama format
(Professor of Iberoamericana University of Mexico, Josesotoesuturada)
- Future strategies of drama: Planning of global killer-contents
(Vice-CEO of Samhwa Networks, Korea)
<Session 2>
- Latest trend of music industry of Thailand and proposals for invigoration of Korea-Pacific music industry
(Surachai Sensri, Vice-president of GMM GRAMMY International, Thailand)
<Session 3>
- Status and future strategies on Hallyu in economy (Head of Asia/Oceania Team of KOTRA Ki, Se-myeong, Korea)

Global culture industry forum is an event held by KOFICE on an annual basis where working-levelers and experts of domestic and overseas cultural industry are invited to deal with market status, success cases, and market presence strategies, etc. '2009 Global culture industry forum' became an opportunity to look into status of global cultural contents and future development scheme from domestic and overseas experts in cultural industry. Especially, this chance provided time for sharing updated information and experiences by analyzing the followings: success cases of the Latin drama 'Telenovela' which enjoys sweeping popularity in North- Latin America, future strategy of drama industry through 'Telecinema', the Korea-Japan project, present/future of music market of Asia & Southeast Asia, and cases of domestic economy utilizing Hallyu fever, etc.