Academic events
HOME
> Main activities >
Academic events
Hallyu forums and seminars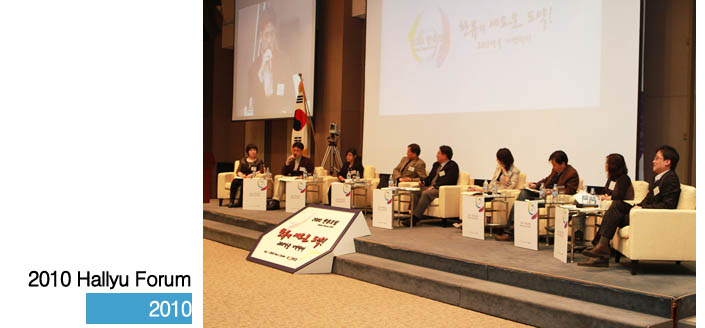 Article view
Date
December 1, 2010 (Wed)
Venue
International conference hall, Press Center (20F)
Country
Ministry of Culture, Sports and Tourism
Host
KOFICE
Supervisor
Sponsor

New Takes of Hallyu! Promises for 2011

▶ Session Ⅰ

- Looking at Hallyu 2010 through the Korean Wave Index (Presenter: Jung-min Ko, President of Korea Creative Industry Research Center)

- Hallyu consumption and changes in the national image due to Hallyu (Presenter : Ju-yeon Kim, professor of International Tourism Strategy Research Center)

▶ Session Ⅱ : 2010 Hallyu Hot Issues 10! Video and forecast of Hallyu in 2011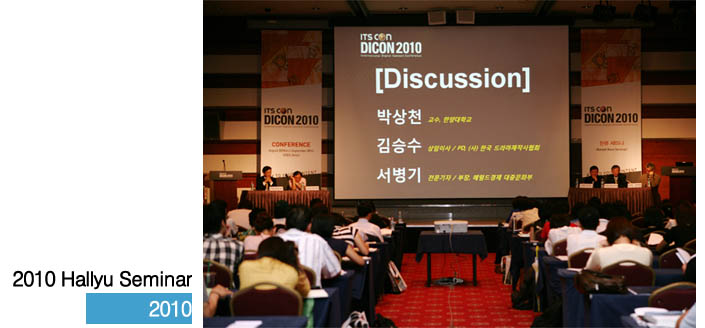 Article view
Date
September 2, 2010 (Thu)
Venue
Grand Ballroom 104, COEX, Seoul
Country
Host
Ministry of Culture, Sports and Tourism(Organizer : KOFICE, KOCCA)
Supervisor
Sponsor

New Challenges and Tasks of Hallyu; Raise the Quality of Hallyu!

▶ Theme 1 : Raise the sophistication of Korea's outgoing core contents (Byeong-joon Song, CEO of Creative Leaders Group Eight)

- Analysis of the effects of "makjang" dramas on Hallyu and national brand

- Means of continuing and spreading Hallyu through Korean dramas, the core Hallyu content

▶ Theme 2 : Face of Korean Wave, Korean Wave Star (Tae-kyu Kang, CEO of Music Farm)

- Means of developing star management systems to elevate the international reputation of Hallyu stars

▶ Theme 3 : Ways for Korea, China and Japan to collaborate on media content (Chang-wan Han, professor of Sejong University Dept. of Cartoon and Animation)

- Means of collaborating for joint marketing, joint production and cultural exchange between Korea, China and Japan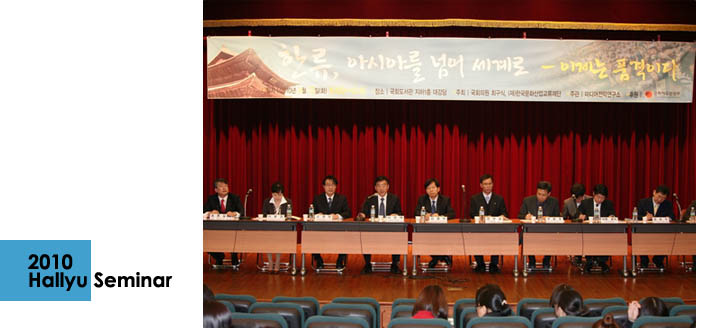 Article view
Date
Tuesday, April 13, 2010, 09:00~12:30
Venue
National Assembly Library B1 Lecture Hall
Country
Host
KOFICE, Office of the assemblyman Choi, Gu-sik
Supervisor
Sponsor

▪ Theme : 'Hallyu, Beyond Asia to the World: It's Quality Now"

◈ Presentations
<The 1st presentation> Current situation and diagnosis of Hallyu through the Korean Wave Index( Korea Creative Research Institute, CEO Jung-min Go)
<The 2nd presentation> Is there a Hallyu crisis? (Korea Culture and Tourism Institute, Researcher Yun-kyung Lee)
<The 3rd presentation> Reigniting Hallyu to boost national standards (Media Strategy Research Institute, President Jong-gil Song)

The Korea Foundation for International Culture Exchange (Chairman Young-hoon Kim) held a seminar under the theme of "Hallyu, Beyond Asia to the World: It's Quality Now" to diagnose the current status of Hallyu and discuss the future of Hallyu. The function was held at the lecture hall of National Assembly Library in Yeoui-do on Tuesday, April 13. The seminar was attended by private and public entities as well as by Hallyu specialists from China and Japan, and allowed participants to investigate the current situation and problems of Hallyu and possible future plans for fueling the Korean wave. Moreover, the seminar gave presentations on the first "Korean Wave Index," the truth of anti-Hallyu as observed in 5 nations, and the results of a local Hallyu survey conducted in 9 countries around the globe.