KOFICE NEWS
HOME
> About us >
KOFICE NEWS
Article view
Title
'Thank You, Small Library," built in Tanzania, a nation designated by the UN as the least developed
No
120
Inquiry
1142
Date
2017.12.11
Africa is the second largest continent in the world. It is a continent that accounts for 20% of the world's land and a population of nearly 1.3 billion. It has an unstable society due to civil war, severe poverty, and hunger problems, which are attracting the world's attention. There is a lack of recorded history in Africa, which may also seem mysterious to us because not many people visit there. Africa faced another problem after the colonization period by the European powers that occupied the continent during the age of exploration. At the Berlin meeting in 1884, the European imperialist powers agreed not to consider differences in language, culture, and customs of African tribes, but to create African borders in accordance with their political interests. Many African countries still suffer civil war because of tribal conflicts, and their security is unstable. Tanzania is one of the 54 African nations that joined the UN, and it is the most stable country in Africa, both politically and socially.

Although Tanzania is designated by the UN as a most underdeveloped nation, it has a stable social system because of education. Because of the education and language policies of the first president of Tanzania, Julius Nyerere, conflicts among tribes were reduced. Before becoming president, Nyerere was a teacher. He thought the root of internal conflicts in African nations was differences in the languages, cultures, and traditions of tribes and thus, he designated Swahili as the first national language. He invested 14% of the national budget into education, making elementary education free for all citizens. Moreover, he conducted an education policy through which middle school students and above had to move to places other than their hometowns in order to receive education, thereby minimizing conflicts among tribes as much as possible. Through such policies, communication and exchange among tribes increased in Tanzania, minimizing the danger of internal conflict that other African nations face. Due to the case of education being successfully used for the nation's integration, Tanzanian citizens and government officials are very interested in education.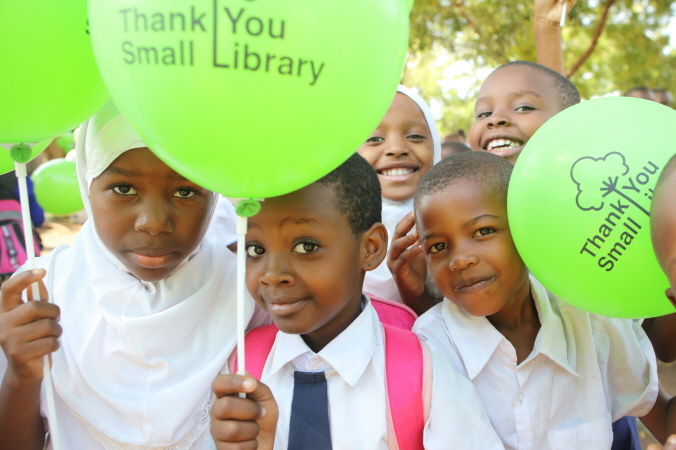 Tanzanian students offering congratulations on the opening of the library

I was able to feel the high interest of Tanzanian students in reading and education at the library construction site. During the creation of the small library in the three schools of Dar es Salaam, both teachers and students voluntarily cleared garbage on site or arranged books on the shelves with the construction company staff. In this way, they clearly demonstrated their affection for this small library space. Recently, with China's aggressive ODA investment and business progress in Africa, a large number of Chinese people began to flock to Africa. The image of Asian people is not good due to various social problems caused by the Chinese who settled in Africa. Students who used to recognize Asian people only as Chinese, shook hands with them as they shouted "Korea!" when Koreans visited the site at the end of the small library construction. On the day of the opening ceremony, they directly expressed their gratitude for the construction of the small library by singing and writing songs for Korean guests.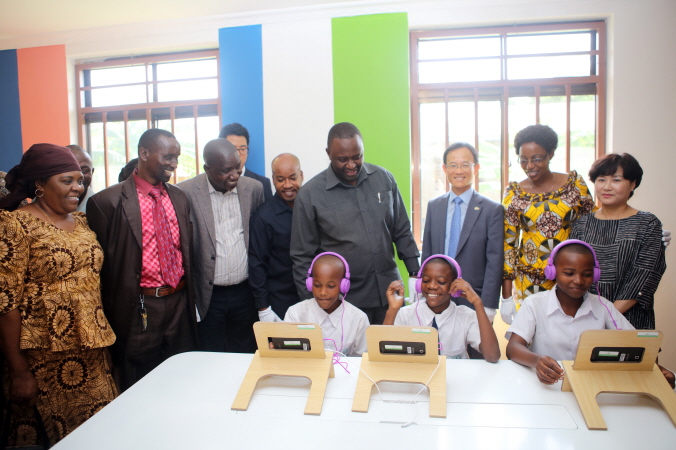 Students using the small library

To date, Tanzania has a total of 14 small libraries. Bongoyo Elementary School, Kibugumo Elementary School, and Barafu Elementary School in Dar es Salaam, where the small libraries were located as of October 16, were strategically selected by Tanzania Ministry of Foreign Affairs and Ministry of Education, Science, and Technology for the training of outstanding students. What I found out was that although each school received many books donated from various countries and charity organizations, most of them were rather difficult for elementary school students to read and were in English. This is far from the reality of the local situation, as the official English education starts from the middle school. Books are also very expensive. At a local store, a Swahili book was sold at approximately 10 dollars. That is very expensive and costs as much as the tuition fee for one semester of elementary school.

By the request of Ministry of Foreign Affairs and Ministry of Education, Science, and Technology in Tanzania, the Korea Foundation for International Culture Exchange focused on sending materials to the students of the three schools. They boldly excluded PCs, laptops, and small-scale multimedia from their provision, which they used to provide along with books to existing small libraries. Rather, they focused on the construction so that the students who were studying on the building floor due to lacking classrooms could read books in a better environment. They also worked on providing Swahili books such as fairy tales and novels sold throughout Dar es Salaam, as well as translations of Korean books on fairy tales, job manuals, and legends around the world.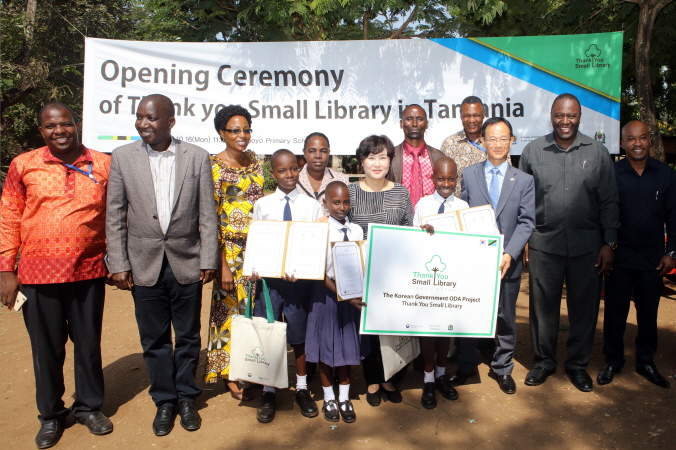 Tanzanian government officials and Korean officials at the opening ceremony

The small libraries built at three schools of Dar es Salaam have become the pride of the local teachers, students, and parents, as well as a landmark at each village. Even after class is over, many students were willing to read books at the library, and teachers began extending the library opening hours to accommodate them. "Thank You Small Library" is a future-oriented business among ODA businesses. Rather than focusing on a short-term effect of 1 to 2 years, the business focuses on a long-term effect so that even 10 out 1,000 students of each school can build their dreams through the small library and become people that will help develop the nation. That is considered the measure of true success for this business.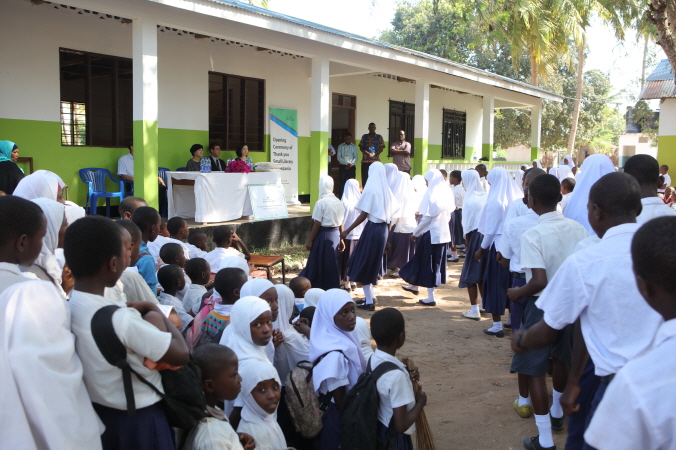 Barafu elementary students' performance to celebrate the opening of the small library

The Tanzanian government regards education as a key element in national development, and it is one of the priorities of the policy development goals. I expect that the "Thank You Small Library" project will contribute to the achievement of the Tanzanian government's goal of promoting education so that it can eventually attain quality improvements in living standards, proliferation and settlement of a learning society atmosphere, and creation of a culturally noble atmosphere. These goals are among the objectives of the Tanzania Development Vision 2025.