KOFICE NEWS
HOME
> About us >
KOFICE NEWS
Article view
Title
'The global youth of "Outlookie" global youth, fall in love with Korean food and traditional culture
No
122
Inquiry
1059
Date
2017.12.11
The third generation Outlookie holds <exploration of traditional culture of Jeonju>
The Korea Foundation for International Culture Exchange (KOFICE) conducted a traditional culture tour of Outlookie at Jeonju for one night and two days from October 28 (Sat) to 29 (Sun). On this tour, which was held in Jeonju, a city of traditional culture, about 60 members from 19 countries visited various places and experienced our traditional culture.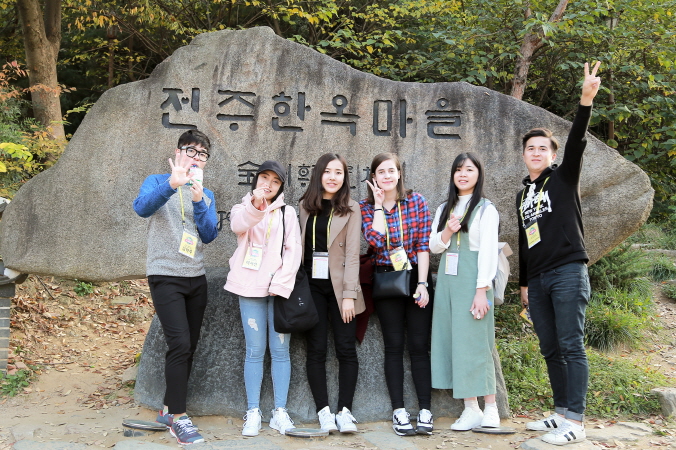 The third generation Outlookie visits the Jeonju hanok village
On Saturday, October 28th. The members arrived with excitement at Jeonju. Each team visited famous places such as Jeonju Traditional Music House, the Mecca of Korean traditional music, South Market, the center of Jeonju cuisine, and Gyunggijeon, which safeguards and shares the 500-year history of the Chosun Dynasty. The themes of the trip were traditional culture and art, Korean food, and history. After visiting various places in Jeonju, the members carried out their mission to create a video that reveals and shares the beauty of Jeonju, playing a part in promoting Korean culture.

After arriving, the members left their baggage at a traditional hanok, "Iodang," where they enjoyed making rice cakes and tuho. The highlight of the trip was when singer Park Yonn-hee, who was designated as a national treasure of Korea, was invited along with daegeum, ajaeng, geomungo, and gayageum musicians to demonstrate a beautiful Korean traditional music performance. Listening in a moonlit yard at a traditional Korean house, the attendees fell in love with traditional Korean music performance.
Korean traditional music performance at a traditional house on an autumn night

The next day, a screening and award ceremony was held to show promotional videos about Jeonju's traditional culture of Jeonju that were created by the members. Jeon Young-ho, a team leader in tourism marketing at Jeonju City who participated as a judge, said, "The appearance of Jeonju from a foreigner's perspective struck me as novel. It was meaningful to have various SNS videos produced with three distinctive themes." Afterward, the members participated in the <Jeonju bibimbap competition>. Through traditional games such as jegichagi and a game of slap-match, they were able to get the ingredients they needed for making bibimbap. Through this activity, they could learn about the value of Korean food.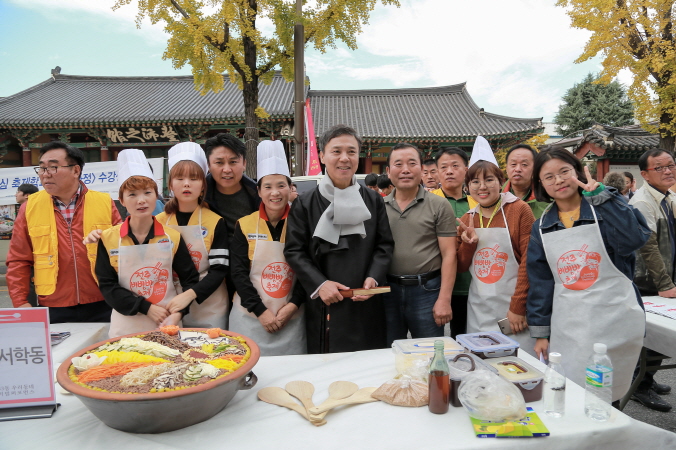 The members with the mayor of Jeonju, Kim Seng-soo, at the Jeonju bibimbap festival

A. Uzbekistan, Zuma Babej timur, who participated in the Jeonju traditional culture tour, talked about his experience on the trip: "I've lived in Korea for two years. During the six months I spent doing activities with the Outlookie members, I became more aware of Korean culture. Thanks, Outlookie, for giving me the opportunity to have this wonderful experience. This Jeonju excursion was also very enjoyable for me because I was able to experience various Korean cultural aspects such as watching Pansori, a Korean traditional performance, and making bibimbap.

The third generation Outlookie members began their activities after the opening ceremony in April. They have participated in events such as Exploring Jeju Island's World Heritage Sites and Global Innovators, Exploring the Rural and Traditional Market in Pohang, 2017 Global Friendship Festival, and Outlookie Culture Festival with Lotte Department Store. After exploring the traditional culture of Jeonju, they will finish a closing ceremony.